Recipe calculated for 20 pieces
7 completion stages
Corman products used
for this recipe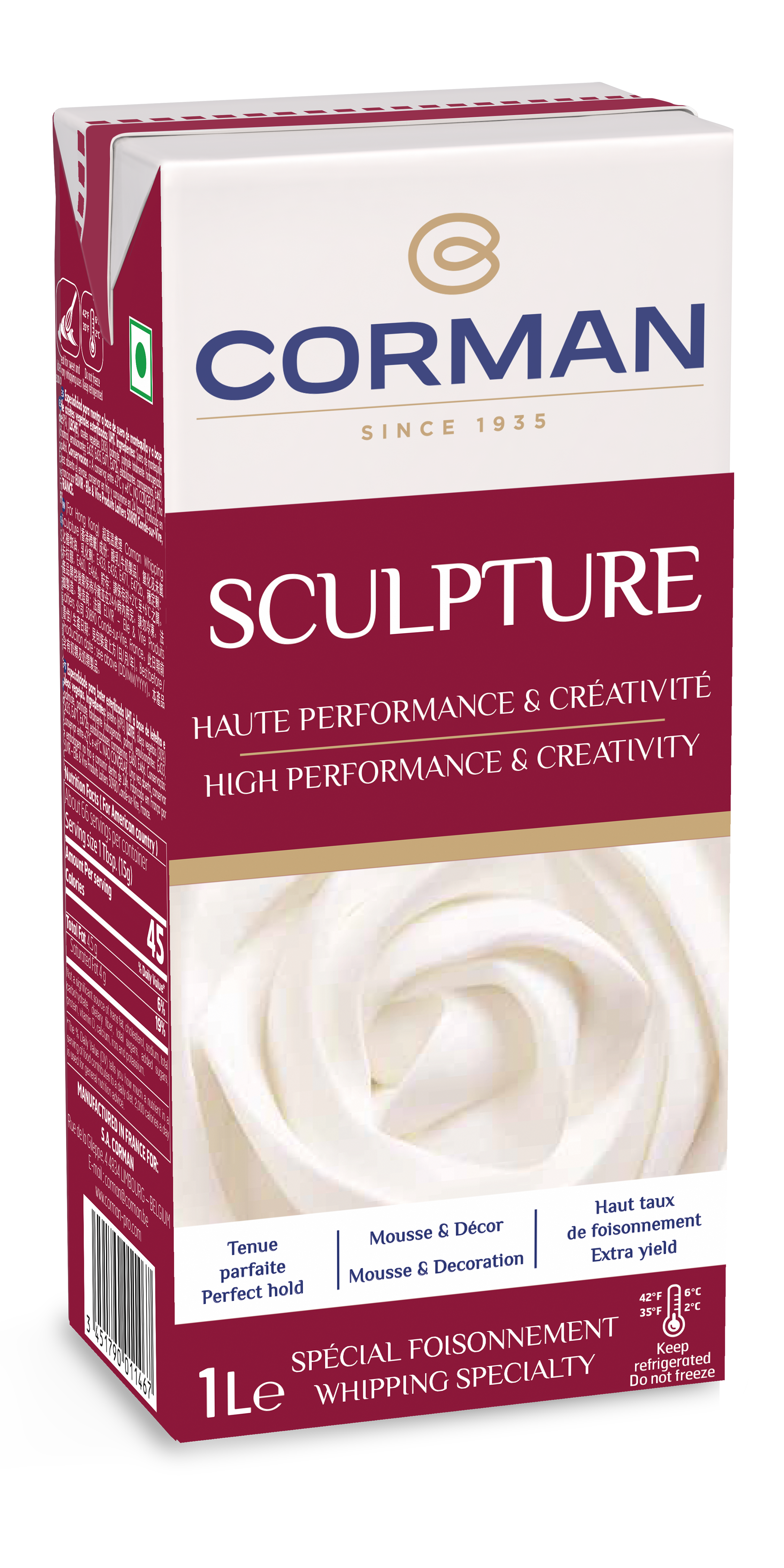 Sculpture 30.2% fat
Heat the eggs and sugar to 40 °C and whip together until they cool down. Add the sifted flour.
Spread out onto a baking sheet (30 x 40 cm) and bake at 180 °C for 10 minutes.
Cut out 6 cm rounds.
200 g
eggs
125 g
sugar
125 g
flour
Boil the water and sugar, then add the passion fruit purée.
Let it cool and soak the genoise sponge with the mixture.
Freeze.
50 g
passion fruit puree
70 g
water
40 g
sugar
Boil the nappage blond glaze with the lime juice and the passion fruit purée, add the diced mango and the lime zest. Cook for 2 minutes, then add the gelatin mass.
For 25 g of the mango compote into 4 cm spheres and pour the rest onto the genoise sponge sheet soaked with the passion fruit syrup.
Freeze and cut out 5 cm rounds.
375 g
nappage blond glaze
10 g
lime juice
40 g
passion fruit puree
105 g
gelatin mass
500 g
diced mango
1
lime zests
5 g
passion fruit syrup
Loosen the pastry cream, then incorporate the vanilla powder, the gelatin mass and the 500 g Sculpture, previously whipped to soft peaks.
Whip together to soft peaks.
Melt the cocoa butter and the white covering, mix together.
400 g
cocoa butter
600 g
white covering
For 25 to 30 g of the pastry cream into Flexipan® moulds (ref1331 K50). Insert the genoise sponge rounds with the mango compote and smoothe. Freeze. Remove from the mould and coat with the white velvet.
Arrange a mango compote dome onto a 5 cm white chocolate disc. Insert a toothpick to keep the two together, then create a rose by piping Sculpture using a petal nozzle.
Arrange a few gold or silver petals on the little cakes.
10
white velvet
20
white chocolate discs, 5 cm diameter
2
gold or silver petals