Recipe calculated for 38 persons
3 completion stages
Corman products used
for this recipe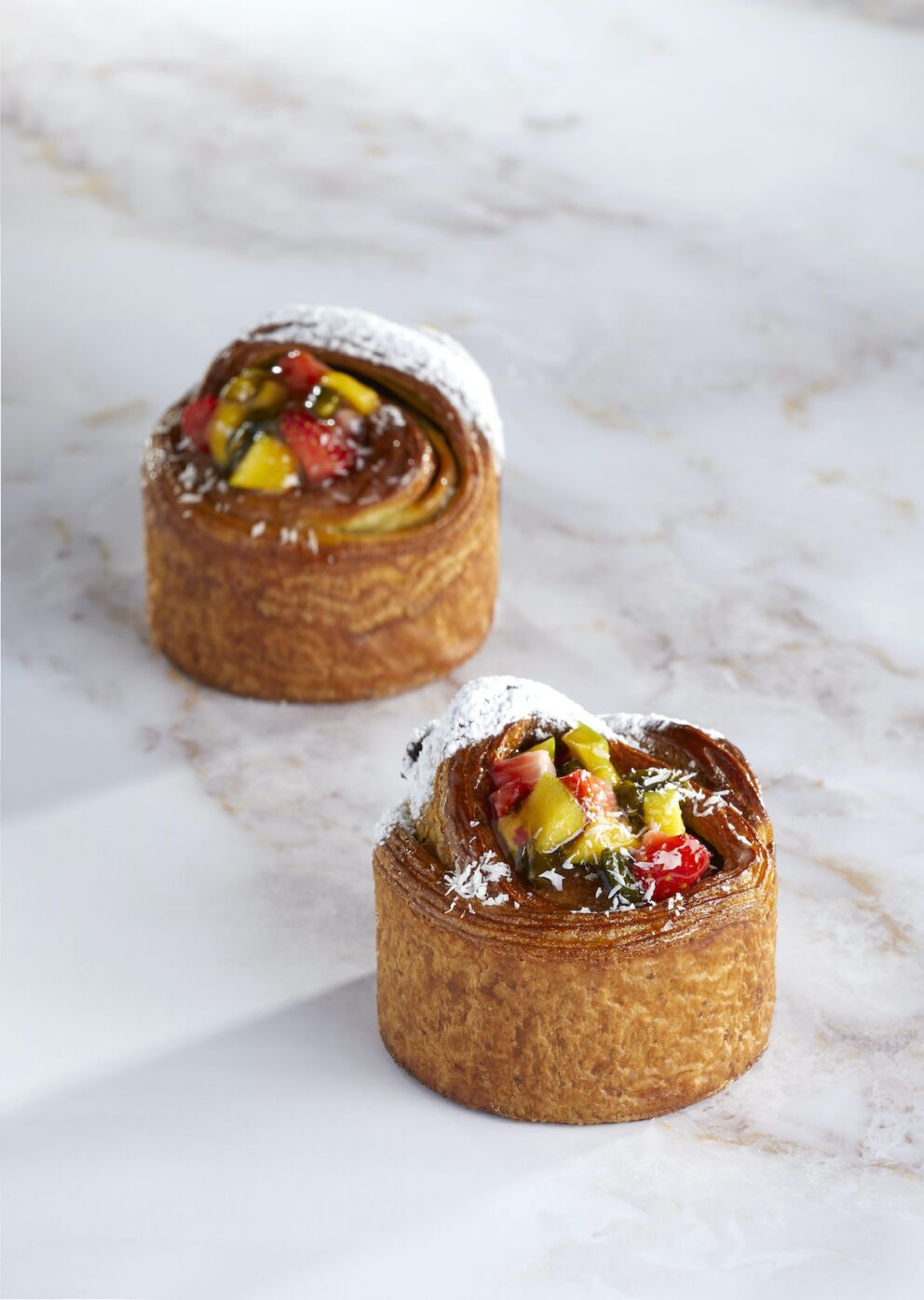 Mix together the milk, egg yolks, eggs, sugar, honey, orange paste and the malt.
Add the flour, the natural liquid starter and the yeast, then start to knead.
Continue to knead for 6-7 minutes, then add the salt and lastly, the butter mixed with the pistachio paste.
Leave to rise at room temperature for 30-60 minutes until the dough has doubled in size.
Roll out the dough to the size of a 60 cm x 40 cm baking sheet, cover with clingfilm and chill overnight in the refrigerator.
The next day, take the butter out of the fridge (about 15 minutes before you want to use it in the summer and 30 minutes before in the winter), and roll out to 7-8 mm thick using a dough sheeter.
Incorporate the butter into the dough and make three letter folds.
Chill at 0°C for 20-30 minutes.
200 g
whole milk
70 g
Traditional Butter 82% fat – Block
100 g
pistachio paste
18 g
salt
45 g
Brewer's yeast
160 g
natural liquid starter
758 g
Flour 00 Strength 330 - Firmness/Elasticity 0,55
9 g
Diastatic malt extract 6,000 UP
18 g
honey
150 g
candied orange paste
50 g
caster sugar
80 g
whole eggs
135 g
Egg yolks
500 g
Dairy Butter 82% fat – Sheet
Heat the butter to 22°C. Then, in a stand mixer fitted with a flat beater, mix all the ingredients together until smooth.
Roll out dough to 2.5 mm thickness and spread pistachio mixture on top.
Roll out the marzipan mixture (50/50) to 1 mm thickness, spread on the pistachio mixture and roll up tightly.
Place at 4°C for 15-20 minutes, then cut into swirls about 2 cm thick, place on a baking sheet inside steel circles 4 cm high and 10 cm in diameter, let rise at 26°C for about 3 hours, then bake at 180°C for 16-18 minutes.
Garnish with diced fresh fruit of your choice and shredded coconut.