Strawberry tart
An original recipe from

Rony Parijs

6 completion stages
Corman products used
for this recipe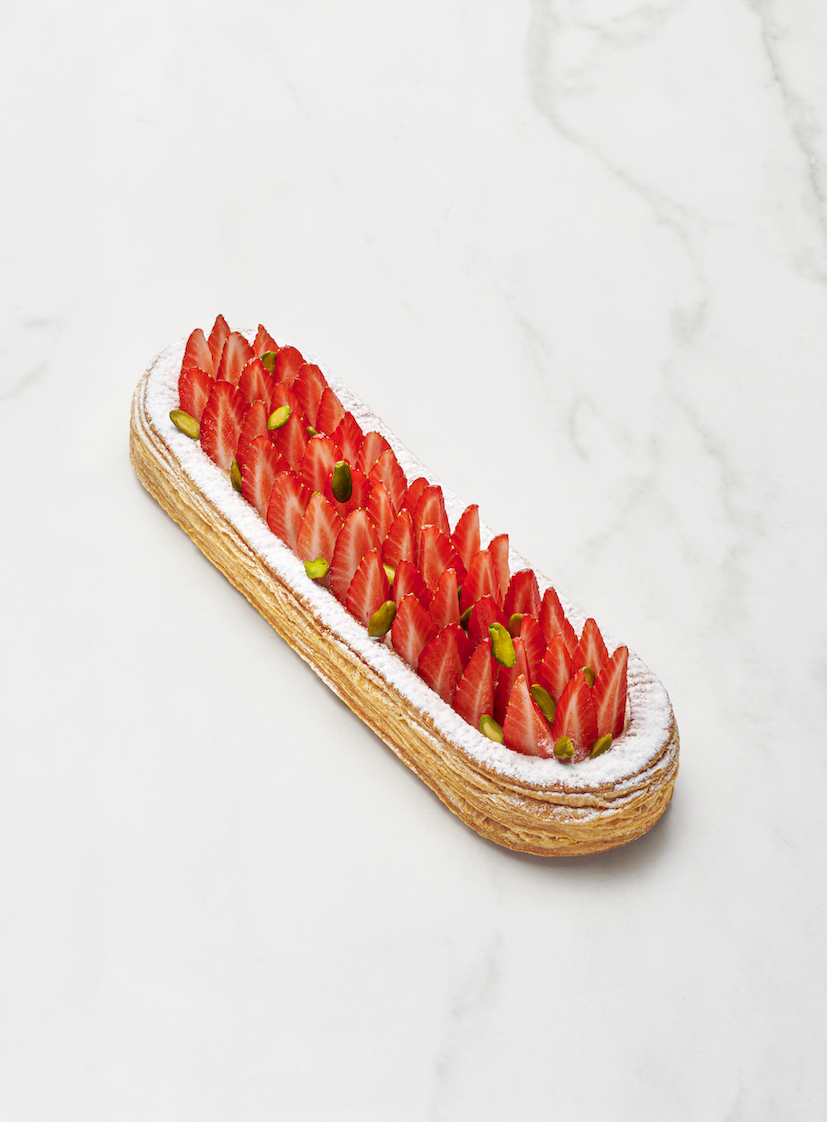 1
Corman patisy puff pastry
Using the dough hook, combine the flour, Patisy cut into pieces and salt while drizzling in the vinegar and water.
Form into a ball and let rest in the refrigerator.
Roll out the dough and insert the sheet of Patisy.
Seal and give it its turns.
2000 g
plain flour (T55, approximately 11% protein)
20 g
salt
600 g
Corman Patisy sheet (1)
760 g
water
20 g
vinegar
1000 g
Patisy 78% fat – Sheet
Prepare a traditional pastry cream.
1730 g
milk
345 g
sugar
85 g
cream powder
85 g
plain flour (T55, approximately 11% protein)
345 g
egg yolk
Stir the pastry cream until smooth.
Whip Sculpture until stiff then gently fold it into the pastry cream.
300 g
milk
300 g
egg yolk
5000 g
strawberries
QS
icing sugar
QS
pistachios
Perform 5 single turns, respecting the resting time between each turn. Roll out the dough to a thickness of 2.5 mm.
Cut out 16 tart bases using a Matfer® oblong cake ring. Take half of the bases and cut into oblong rings. Brush the remaining bases with the egg wash.
Arrange the cut-out rings on top of the egg-wash-brushed bases and brush the rings twice with egg wash. Place 2-cm high blocks on the baking sheet, top the bases with a sheet of baking paper and place a baking tray over top. Bake in a 170°C convection oven for approximately 40 minutes.
Let cool and fill the shells with 250 g of light Sculpture cream using a 10-mm plain tip. Smooth and top with strawberry quarters and a few halved pistachios. Sprinkle the edges with icing sugar.