An original recipe from

Giambattista Montanari

Recipe calculated for 16 pieces
2 completion stages
Corman products used
for this recipe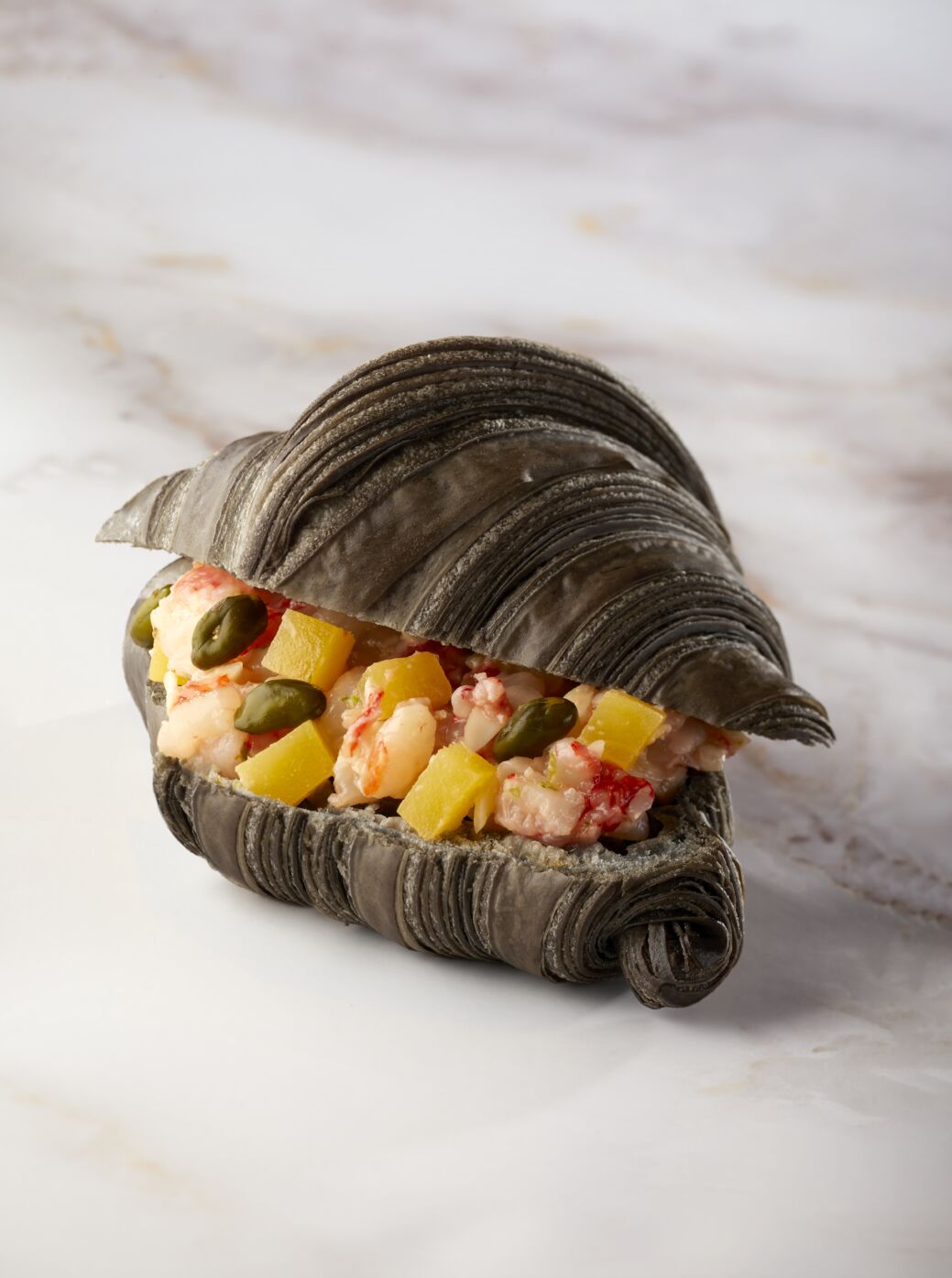 Heat the malt, erythritol, milk, eggs, cream, salt and cuttlefish ink together and mix with a hand-held blender.
Place in the bowl of a stand mixer with the rest of the ingredients and knead for approx. 11 minutes.
Leave to rise at 24°C for 45 minutes, then roll out the dough to the size of a baking sheet and chill overnight at 0°C.
The next day, roll out the dough, making a book fold and a letter fold, then leave to rest for 20 minutes at 4 °C.
Thinly roll out the dough to a thickness of 2.8mm.
Cut the dough into the characteristic triangles (28 cm x 9 cm) and roll up, brush with beaten egg and leave to rise for about 2 hours at 27°C, RH 75%.
Brush again with egg and bake at 175°C-180°C for 19 minutes.
5 g
Diastatic malt extract (5,000 PU)
18 g
Brewer's yeast
110 g
natural liquid starter
490 g
'00' grade flour – Strength 330 – Resistance/Elasticity 0.50
50 g
squid ink
13 g
fine salt
85 g
Selection Cream 35% fat
40 g
eggs
180 g
whole milk
40 g
erythritol
330 g
Express Butter 82% fat – Sheet
2
Mazara del vallo red prawin tartare
Wash the red prawns.
Remove their heads, tails and shells and then, gently remove their intestines.
Cut them into very small pieces then add the salt, lemon juice, flaked almonds, seed mixture, mango, pepper and oil.
Mix well and leave to macerate for a few minutes.
Fill the croissant as you wish.
10
Red prawns from Mazara del Vallo
10 g
flaked almonds
10 g
lemon juice
3 g
fleur de sel
1 g
fresh ground black pepper
 SQ
mixture of poppy and sesame seeds
 SQ
oil
 SQ
mango