Corman products used
for this recipe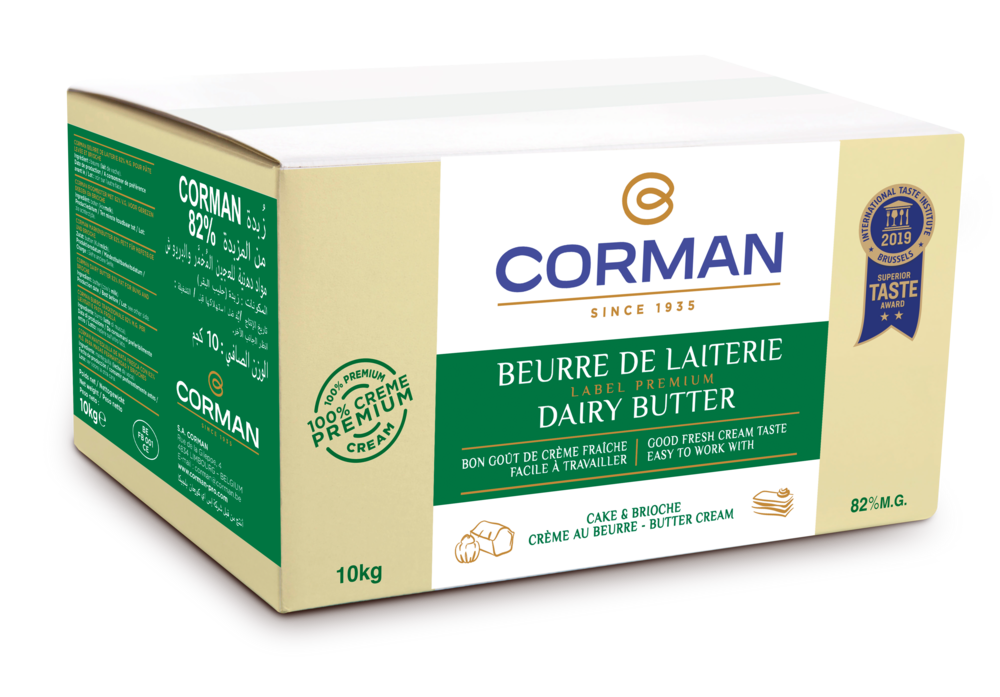 Dairy Butter 82% fat - Block
For longer storage in the freezer: 20 g vinegar as an antioxidant
Combine the butter cubes at room temperature, salt and flour in a stand mixer fitted with a dough hook.
Mix until you have a smooth dough and no lump remaining. Add the water and mix briefly (do not knead).
2
Rolling and resting the dough
Roll out the dough into a 40 cm x 60 cm rectangle, and cover with plastic film.
Rest overnight at 2°C maximum (the temperature should not be higher, otherwise the dough will start to oxidise).
3
Tempering and rolling the butter
Take the butter sheet out of the refrigerator one hour ahead of time during summer and 1.5 hours ahead of time during winter.
Roll out the butter to a thickness of 8 mm.
The ideal working temperature is 17°C to 19°C.
After pre laminating the butter to a 8 mm thickness, the butter is sufficiently elastic to be incorporated into the dough straight away.
DAY 1. Begin the dough lamination by laying the tempered butter over one half of the dough. Fold the dough over the butter, covering it entirely.
Make an incision on both sides of the dough seam. This will reduce the tension on the dough and help the butter distribute evenly during the turns.
Perform 4 single turns and one double turn, leaving 1 hour resting time between each turn (N.B. Adjust the number of turns to the desired puff pastry result).
Perform the last turn on the following day
DAY 2. Perform two 2×3 turns and rest for at least an hour between each turn. Give the dough a quarter turn between each turn. Wrap the dough in plastic film and keep in the refrigerator overnight.
DAY 3. Perform the last turn (1×4), then rest.
After the last turn, roll the dough out to a width of 60 cm and 3.5 mm thickness.
Dust lightly with flour and gently fold over to the size of a baking sheet.
Cover, then leave to rest and chill for 15 to 30 minutes. Once rested, reopen and roll the dough out to the final thickness.
By using an intermediate step, the dough will shrink less and will be easier to work.
It is important that the final result is not too thick, as the puff pastry will rise, even if previously pricked with the rolling pin.