Corman products used
for this recipe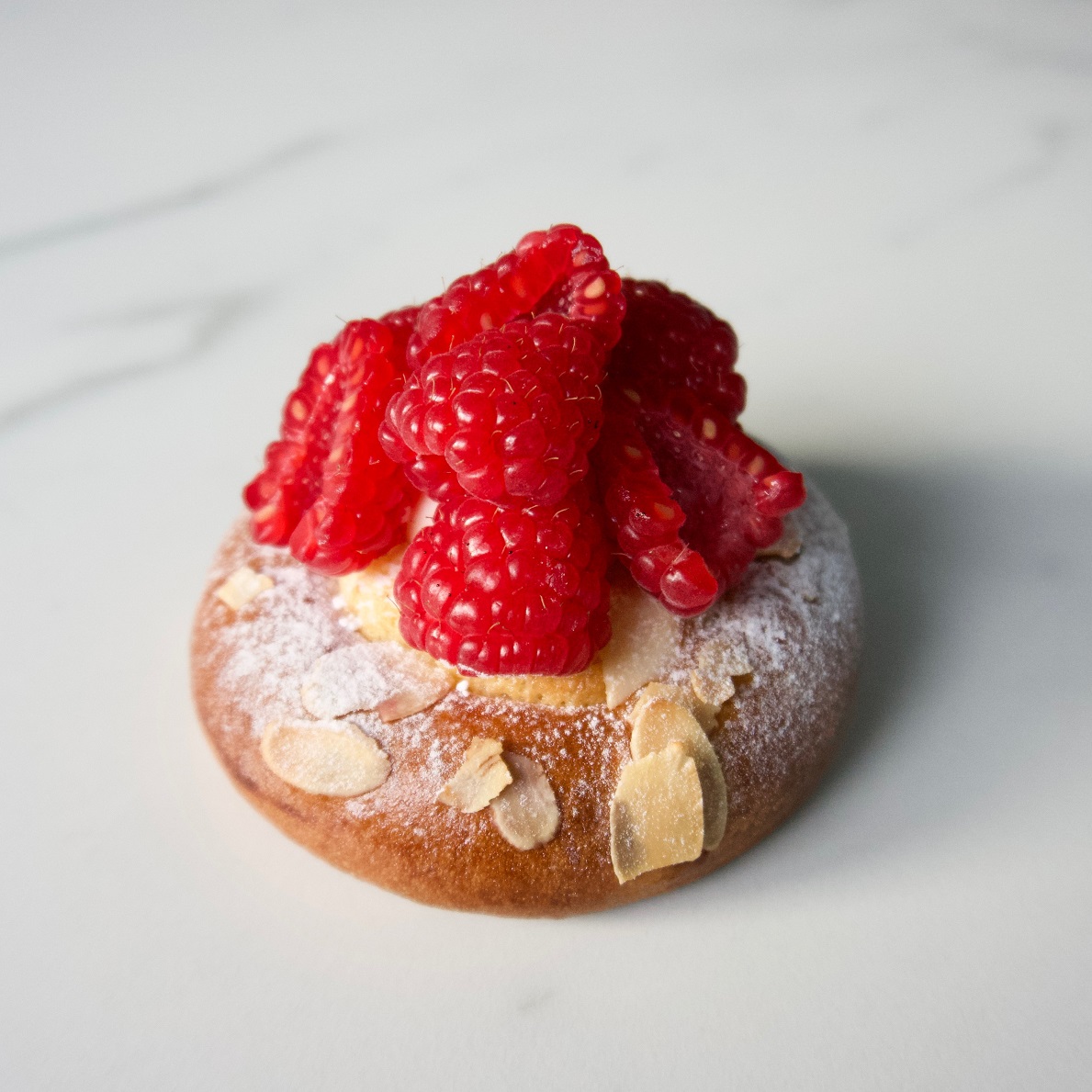 Mix together the flour, the improver if needed, the water, salt, eggs, sugars and yeast until you obtain a smooth dough that is not too soft. Mix for about 4-5 minutes.

Then, knead on the second speed setting.

After 2 minutes, add the butter.

Continue kneading for at least 5 minutes until the dough reaches a temperature of 27°C-29°C and to give it the best possible structure.

Once kneaded, do the windowpane test.

Weigh out pieces of dough (from 1.05 kg to 1.5 kg), then leave to rest covered with clingfilm for 15 minutes.

Divide the dough pieces into smaller pieces (between 35 g and 50 g each depending on the weight required) then roll them into balls.

Leave them to rest covered in clingfilm for 10-15 minutes.

Press on the balls to flatten them slightly and make a small well in the centre of each one. Take care not to turn them into doughnuts!

Leave to rise at a maximum of 28°C.

After 30 minutes, glaze and leave to rise for another 30 minutes.

Just before baking, top each bun with a coconut disc.

Glaze again and decorate with flaked almonds.

Bake in the oven for 7 minutes until the buns are golden brown in colour.

Adjust the temperature of the deck oven according to the cooking time.

Once baked, leave to cool before adding small dots of crème suisse on top.

Decorate with fresh raspberries.
2
Coconut filling
(approx. 136 pieces)
In a stand mixer fitted with a flat beater, mix together the softened butter and the sugar until the mixture becomes white.

Add the grated coconut, the vanilla and then the eggs.

Beat on a slow speed setting, then add the crème suisse and the cream cheese.

Lastly, quickly add the flour.

Use straight away.

Pipe the coconut filling into small individual discs on a silicone mat.

Use enough of the filling to ensure the final product is well balanced.
Make some crème pâtissière.

Add the melted hydrated gelatine to 1 kg of crème pâtissière and mix together.

Leave to cool to 32°C, then add the lightly whipped Sculpture cream.

Mix with a spatula until smooth.

Leave to solidify in the refrigerator.