An original recipe from

Clément Nadeau et Rony Parijs

Recipe calculated for 20 pieces
6 completion stages
Corman products used
for this recipe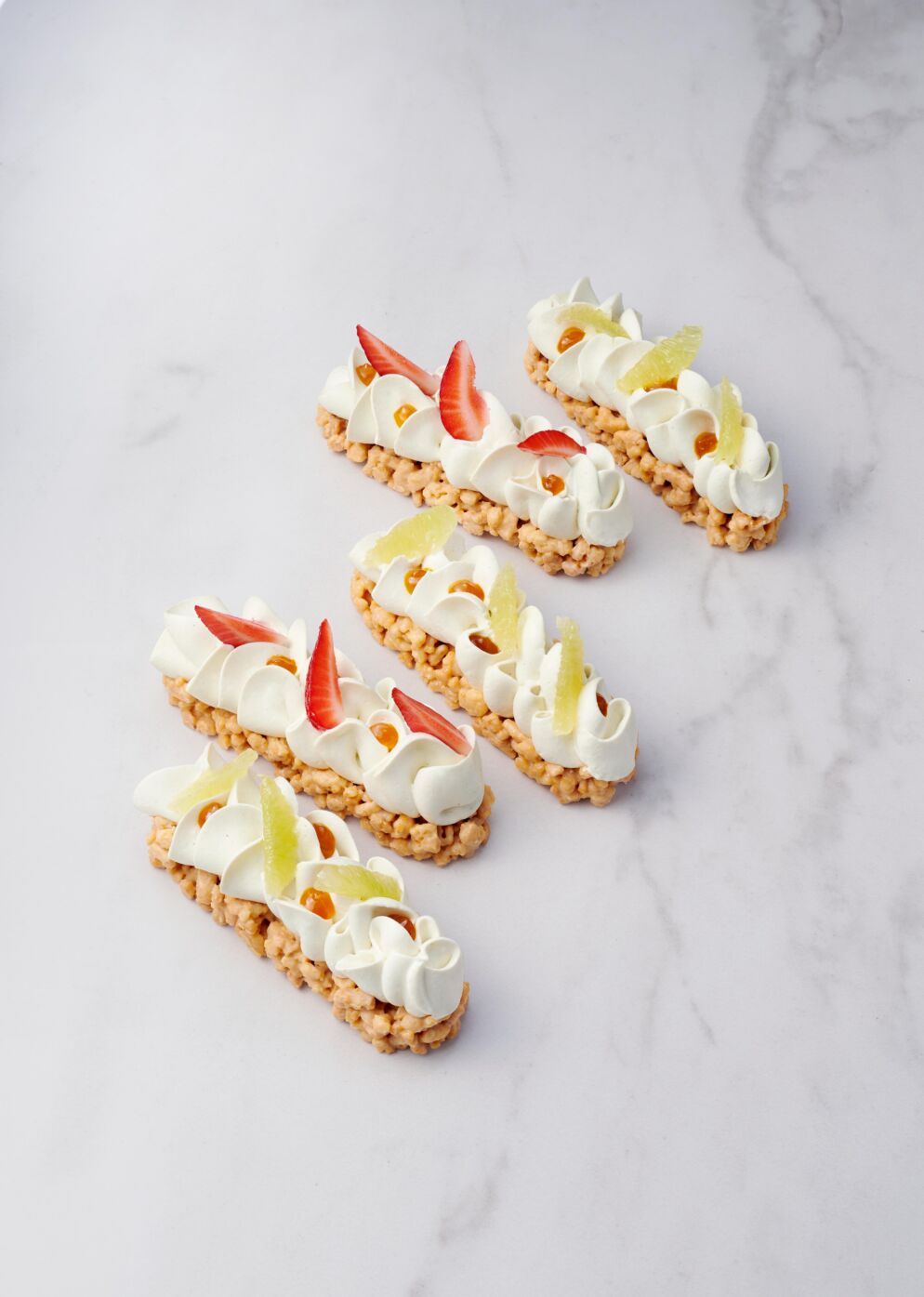 1
Whipped sculpture matcha ganache
Heat the Sculpture (1) with the honey, then add the matcha tea powder.
Pour over the white chocolate.
Add the Sculpture (2) and blend using a hand mixer to emulsify.
Refrigerate for at least 4 hours (ideally overnight).
Heat the fruit purées.
At 40°C add the NH pectin combined with the brown cane sugar (1) and bring to the boil.
Add the brown cane sugar (2) then bring back to the boil.
Add the colouring and set aside in the refrigerator.
85 g
pear puree
40 g
yuzu puree
35 g
brown cane sugar (1)
2.5 g
pectin NH
80 g
brown cane sugar (2)
 SQ
yellow water soluble colouring
3
Cream cheese almond streusel
Using the paddle attachment of a stand mixer, combine the butter, cream cheese, flour, light brown cane sugar, ground almonds and fleur de sel.
95 g
Dairy Butter 82% fat – Block
40 g
cream cheese
125 g
plain flour (T55, approximately 11% protein)
135 g
raw sugar
135 g
ground almonds
2 g
fleur de sel
4
Reconstitued white chocolate crunch
Work the cream cheese almond streusel through a coarse sieve then bake on Silpain® mats in a 160°C convection oven for approximately 15 minutes and let cool.
Combine the melted together white chocolate and cocoa butter, then add the baked streusel.
520 g
cream cheese almond streusel
260 g
white chocolate
18 g
cocoa butter
Peel and supreme the limes.
5
limes
100 g
strawberries
Weigh out 40 g of crunch for each oval tartlet ring (Matfer ref 371152) and press down gently.
Let crystallize in the refrigerator.
Pipe out 10 g of pear yuzu confit onto the reconstituted crunch.
Whisk the whipped matcha ganache and using a pastry bag fitted with a Saint Honoré tip, pipe out irregularly on top of the confit.
Pipe out a few drops of pear yuzu confit among the waves of matcha ganache and decorate with lime supremes or a few pieces of strawberry.