An original recipe from

Ludovic Chesnay et Rony Parijs

Recipe calculated for 60 pieces
5 completion stages
Corman products used
for this recipe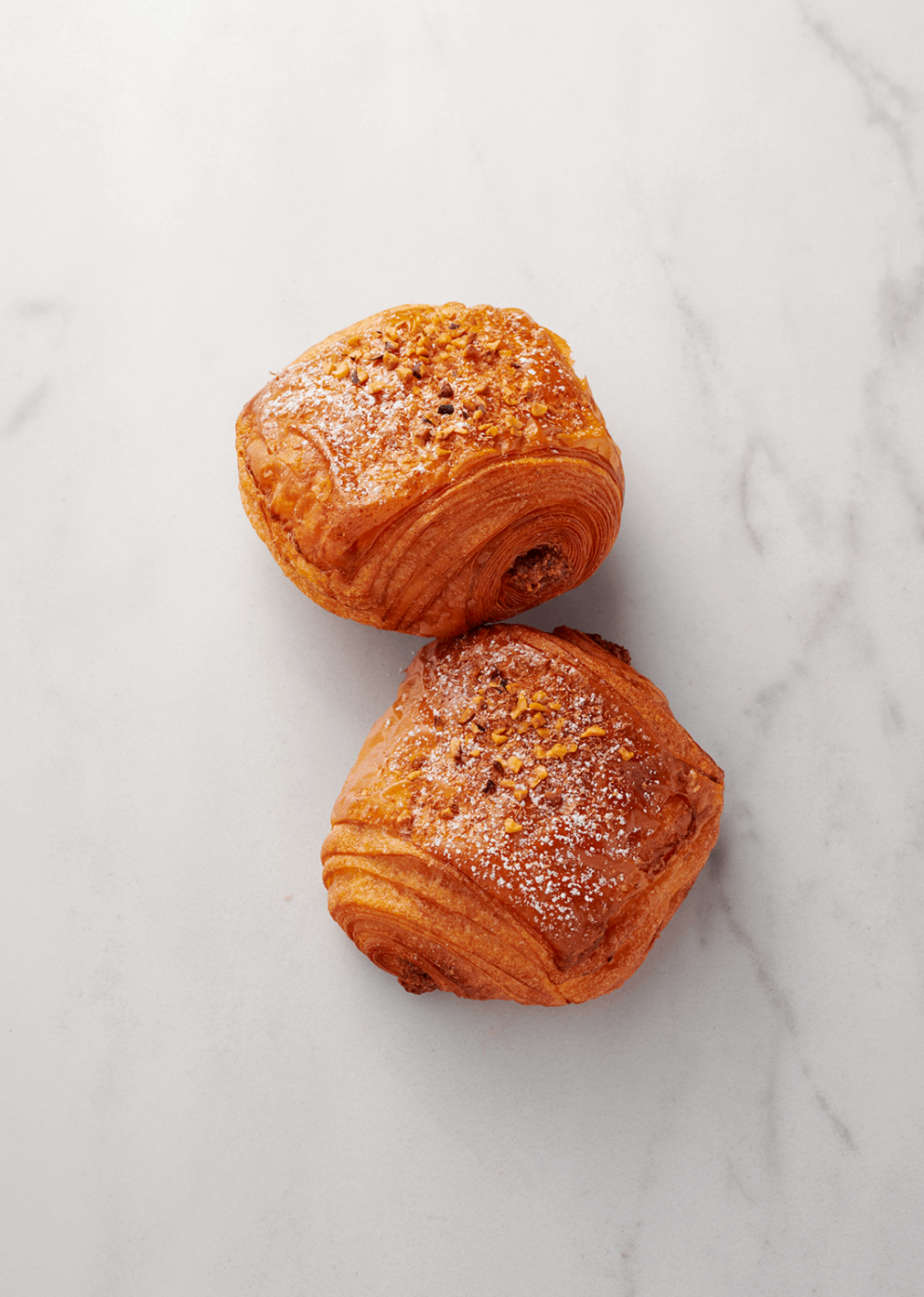 Dissolve the yeast in the cold milk.
Combine the two types of flour, salt, sugar, the 165 g of butter, and the yeast/milk mixture in stand mixer and mix on speed 1 for 5 minutes.
Knead on speed 2 for 8 minutes.
Form into a ball and let rise for 1 hour.
Punch down, roll out into a rectangle and refrigerate overnight.
In a food processor, process the roasted hazelnuts, walnuts, almonds, sugar, cinnamon and orange blossom water.
Add the cold butter, cut into pieces, and process again to obtain a homogenous paste.
Using a rubber spatula, fold in the sifted icing sugar and chopped toasted almonds.
150 g
roasted hazelnuts
150 g
walnuts
25 g
raw almonds
60 g
sugar
2 g
powdered cinnamon
5 g
orange blossom water
75 g
Dairy Butter 82% fat – Block
50 g
icing sugar
75 g
150 g
egg yolks
150 g
milk
 SQ
Chopped hazelnuts
 SQ
 SQ
icing sugar
Using a Ø10-mm plain tip, pipe out strips of walnut filling. Place in the freezer then cut into 8-cm inserts.
Enclose the sheet of butter in the dough and give it 1 double turn. Then give it a single turn and let rest in the refrigerator for 30 minutes.
Roll the dough out to a thickness of 3 mm and cut into 8 x 16 cm rectangles.
Roll up the dough around the inserts. Store in the freezer or let rise for 1¾ hours at 28°C. Place in the refrigerator for 15 minutes then brush with the egg wash. Sprinkle with the chopped hazelnuts and wheat bran. Bake in a 170°C convection oven for approximately 17 minutes.
Let cool and sprinkle with icing sugar.