An original recipe from

Rony Parijs

4 completion stages
Corman products used
for this recipe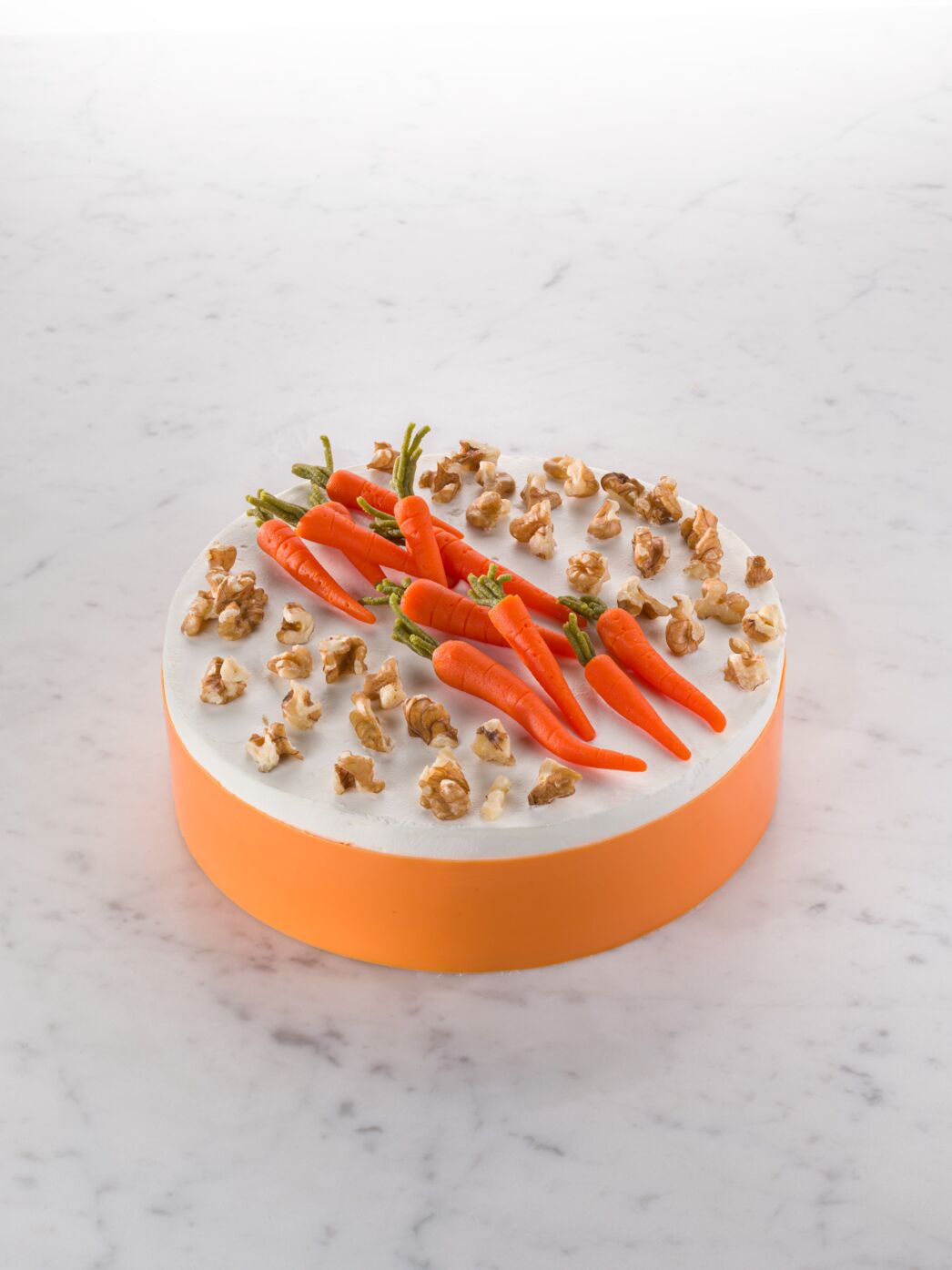 Combine the eggs and brown sugar in a bowl.
Combine the spices (cinnamon & nutmeg) with the flour, baking powder and salt. Sift and add to the egg and brown sugar mixture. Stir to obtain a smooth batter.
Add the melted butter at 38°C.
Grate the carrots. Add the vanilla, walnuts and dates.
Add to the cake batter and stir to obtain a homogenous mixture.
380 g
Dairy Butter 82% fat – Block
500 g
flour
375 g
carrots
35 g
dates, cut into small cubes
60 g
shelled walnuts, chopped
375 g
light brown sugar
1
pinch of salt
0,3 g
nutmeg
0,3 g
cinnamon
1
vanilla pods
375 g
whole eggs
10 g
baking powder
Preheat the oven to 170-175°C.
Grease and flour 3 Ø17 cm round cake pans.
Divide the batter between the pans, 700 g per pan.
Bake for 20 to 25 minutes.
After removing from the oven, turn the cakes upside down and let cool.
3
Cream cheese decoration
Heat the milk with the sugar (1) until it reaches the boil.
Blanch the yolks with the sugar (2).
Pour the hot milk over the blanched yolks and heat to 83°C.
Add the gelatine mass and stir until completely melted.
Strain to ensure smoothness, then pour over the white chocolate.
Stir well then add the room-temperature cream cheese.
Stir and let cool to 32°C.
Add the half-beaten whipping speciality Sculpture and fold in with a rubber spatula.
350 g
milk
50 g
sugar (1)
150 g
egg yolks
50 g
sugar (2)
75 g
gelatine mass
135 g
white chocolate
250 g
Sculpture 30.2% fat
500 g
Elle & Vire French Cream Cheese
Line 3 Ø19 cm rings with plastic wrap.
Place the cakes in the centre and pour the cream cheese mixture into the moulds.
Smooth the surface and chill in the refrigerator for 2 hours before transferring to the freezer for storage.
Unmould and remove the plastic wrap.
Decorate with an orange chocolate band.
Decorate the top with pieces of walnuts and mini carrots made of marzipan.