Tonka and speck pastry petals
Recipe calculated for 12 persons / 12 pieces
2 completion stages
Corman products used
for this recipe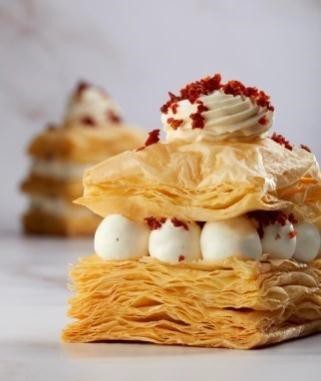 Roughly mix all the ingredients except the butter for 2/3 minutes.
Remove the dough from the machine and place it on a 40×60 cm tray.
Cover it with a plastic sheet and let it rest for 2 hours in the refrigerator.
Remove the butter and dough from the refrigerator, spread and stretch the dough so that the butter can be placed on the centre of it.
Close the dough making sure to bring together the edges of the dough in the centre.
Start rolling the dough, spread it slightly and continue rolling.
Fold once in 3 and once in 2.
Cover again with the plastic sheet and blast chill at 6 °C.
Fold twice more in 2, letting the dough rest between one fold and the other if necessary due to the heat.
Once the last folds are finished, leave to rest for another hour and roll out the dough to 8 millimetres thick.
Then, put it in a leavening cell at 45 °C for 30 minutes.
Next, take the dough out and put it in the refrigerator overnight.
The next day, take the dough and cut into 9×9 cm squares.
Use a scalpel for cutting so as not to spoil the layers of pastry.
Place on a baking tray and bake for 90 minutes at 130 °C/140 °C.
2
Tonka and cheese whipped ganache
Boil water, Sculpture and cream cheese.
Add the gelatine preparation and pour over the chocolate chips and grated Tonka bean.
Emulsify, cover with plastic film and crystallise for 12 hours at 4 °C.
The next day, take a bowl, cool it and whip the ganache.
Cut the pastry in two, garnish with the ganache and decorate with crispy speck.
228 g
Sculpture 30.2% fat
228 g
210 g
water
35 g
gelatine
3 g
Tonka beans
295 g
white couverture chocolate 35%