An original recipe from

Clément Nadeau et Rony Parijs

Recipe calculated for 6 persons / 8 pieces
5 completion stages
Corman products used
for this recipe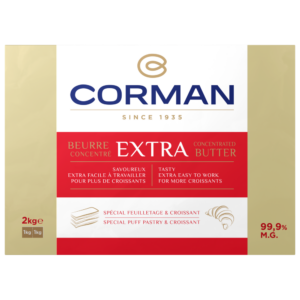 Extra concentrated butter 99.9% fat - Sheet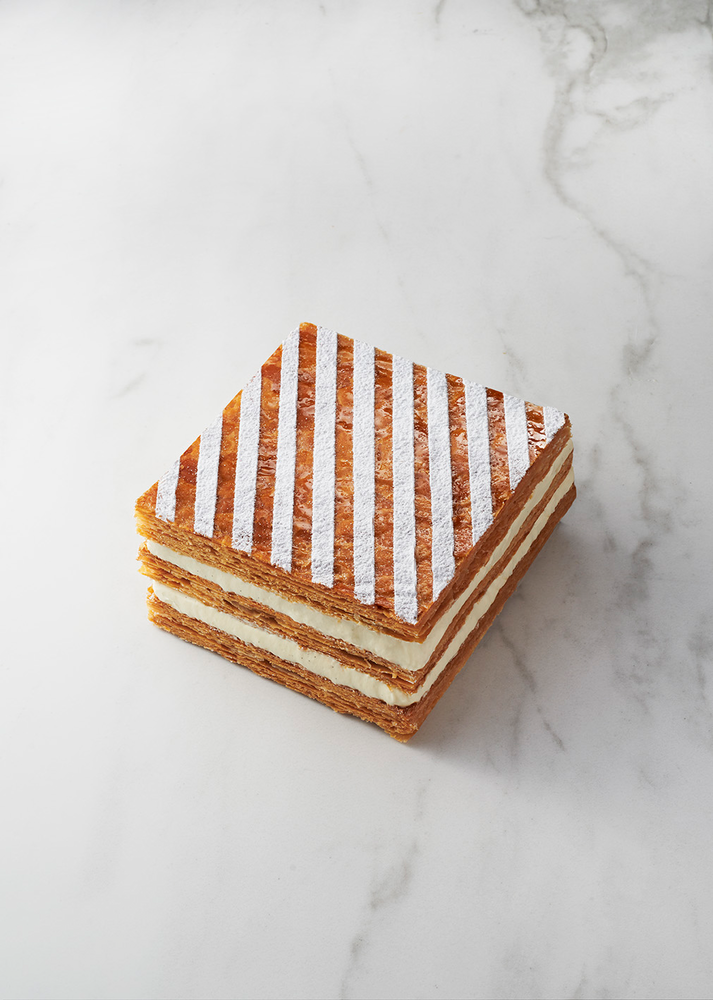 1
Corman 99% mf butter puff pastry
Using the dough hook, combine the two types of flour, the 155 g of butter and the salt while drizzling in the vinegar and water.
Shape into a ball and let rest in the refrigerator.
Roll out the dough and insert the butter sheet.
Seal the dough packet up and give it its turns.
Prepare a traditional pastry cream.
1335 g
milk
265 g
sugar
65 g
cream powder
65 g
plain flour (T55, approximately 11% protein)
265 g
egg yolks
2 pods
vanilla
Stir the vanilla pastry cream until smooth.
Whip the cream until stiff then gently fold into the pastry cream.
1800 g
vanilla crème pâtissière (pastry cream)
1200 g
Cream 35% fat
Perform 3 single turns, respecting the resting time between each turn.
Let rest in the refrigerator.
Give the dough another 2 single turns, sprinkling the inside with a little icing sugar.
Let rest in the refrigerator.
Roll out to a thickness of 3 mm.
Cut into 60-cm long pieces and let rest.
Bake on a sheet of baking paper in a 190°C deck oven or a à 170°C convection oven for 10 min then cover with a sheet of baking paper and a perforated baking tray and finish baking (approximately 30 minutes).
Remove from the oven and sprinkle with icing sugar then let caramelize in a hot oven (approximately 210°C).
Cut into 14- cm squares and let cool.
Pipe out 175 g of light vanilla cream using a Ø12 mm plain tip over the entire surface of a square of pastry.
Top with a second square of pastry, press down gently and pipe out another 175 g of cream.
Top with a final square of pastry, caramelized side up.
Using a stencil, sprinkle with icing sugar to form diagonal lines.