The squirrel, a sumptuous marriage of apples and hazelnuts
Corman products used
for this recipe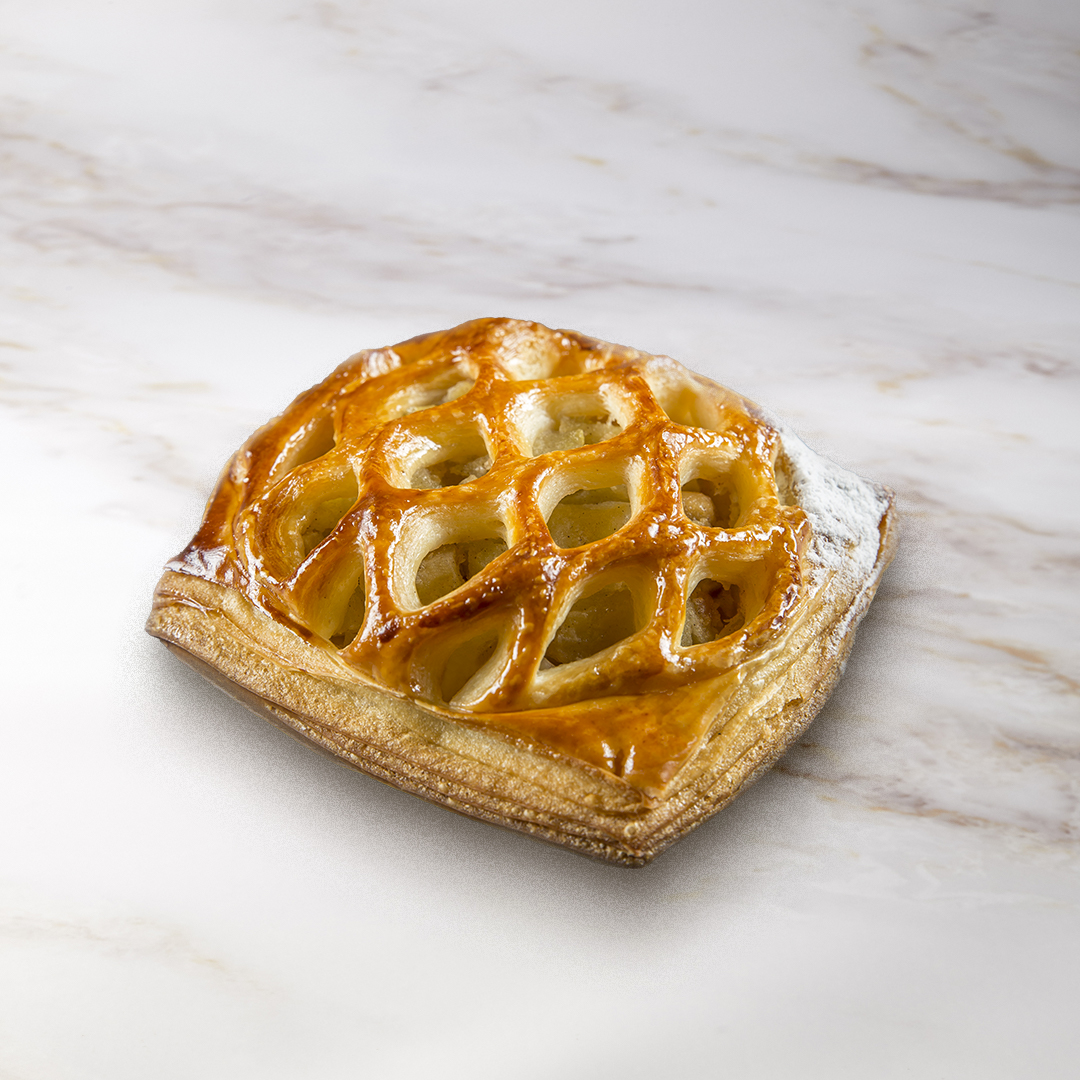 Whisk together the water and yeast, then add the flour (poolish).
Cover with cling film and leave to ferment at room temperature for about 1 hour (the mixture should double in volume).
Once the poolish has doubled in volume, knead on the lowest speed in a mixer together with all the ingredients. Knead on the second lowest speed setting for 8 to 10 minutes (the dough should be smooth).
Keep the dough at a temperature of 24 °C. Form the dough into a ball, then place on a baking sheet and cover with cling film. Leave to rest at 2 °C overnight
480 g
water at 20 °C
40 g
yeast
480 g
T55 flour
1520 g
Gruau flour (high gluten flour)
40 g
salt
240 g
sugar
40 g
trimoline
400 g
Dairy Butter 82% fat – Block
2
Apple and hazelnut filling
Toast and chop the hazelnuts, heat the sugar and butter to a caramel colour, then add the diced apples and cook for about 5 minutes.
Leave to cool and add the chopped hazelnuts, just before you fill the pastries, to keep them from going soft.
Roll out the dough and place 1 kg of the butter sheet on it. Give a double turn, and then a single turn. Leave to rest in the refrigerator for 30 minutes
. Roll out the dough to 3.5 mm thick. Cut out 9 cm x 9 cm squares, place on baking sheets, brush egg wash on the edges and press a Ø60 mm cutter into the centre. Roll out the remaining dough to a thickness of 3 mm, and cut out using a lattice pastry cutter.
Place in the freezer for 10 minutes to harden, then cut out Ø100 mm circles and lay over the apples. Proof at 30 °C for 1.5 hours.
Brush with the egg wash and bake at 220 °C in a conventional oven or 170 °C in a fan oven for about 15 minutes.
Drizzle with syrup straight out of the oven. Once cooled, sprinkle confectioner's sugar over one side.