Individual Patchwork Puff Pastry Rounds
An original recipe from

Sébastien Léger

Recipe calculated for 55 pieces
4 completion stages
Corman products used
for this recipe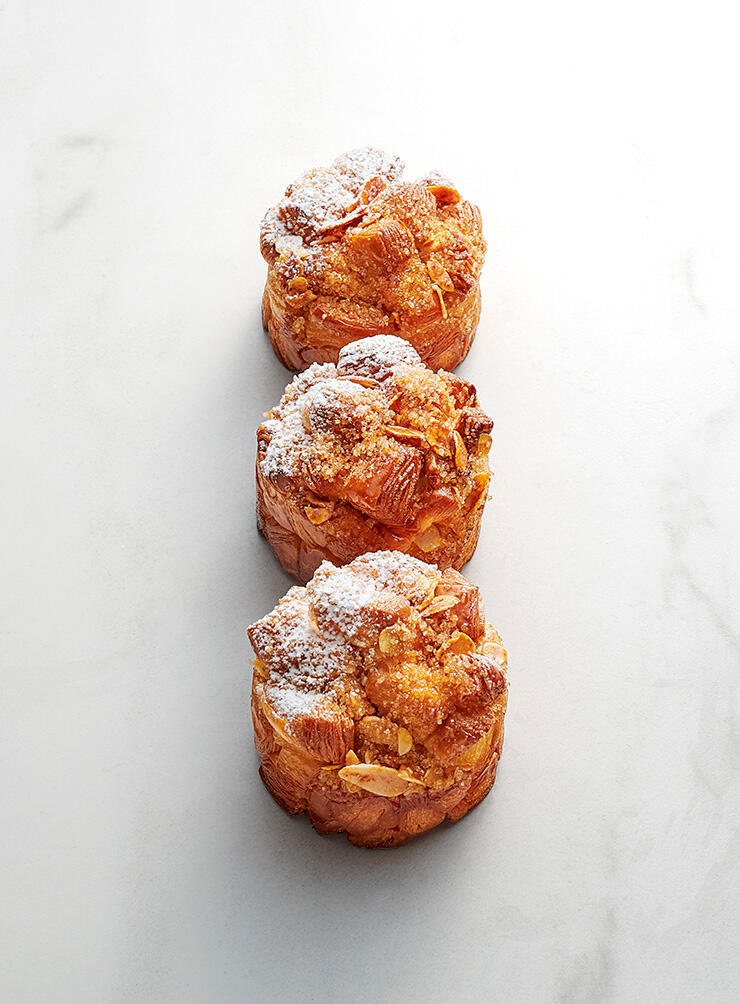 Dissolve the yeast in the cold milk.
Combine the two types of flour, salt, sugar, butter (1) cut in cubes and yeast/milk mixture on Speed 1 of the mixer for 5 minutes.
Knead on Speed 2 for 8 minutes.
Shape into a ball and let rise for 1 hour.
Punch down, roll out into a rectangle and refrigerate overnight.
150 g
raw sugar
5 g
lemon zest
100 g
flaked almonds
Enclose the butter sheet in the croissant dough and perform 1 double turn.
Then give the dough 1 single turn and let rest in the refrigerator for 30 minutes.
Roll out the dough to a thickness of 3 mm and cut into 1 cm cubes.
Fill the buttered rings with 70 g of croissant dough cubes (or trimmings).
Let rise for approximately 2 hours at 28°C.
Brush the tops of each patchwork round with melted butter and sprinkle with citrus-scented sugar.
Bake in a 165°C convection oven for approximately 20 minutes.
Unmould, let cool and sprinkle partially with icing sugar.