An original recipe from

Giambattista Montanari et Jonathan Léger

Recipe calculated for 4 pieces
7 completion stages
Corman products used
for this recipe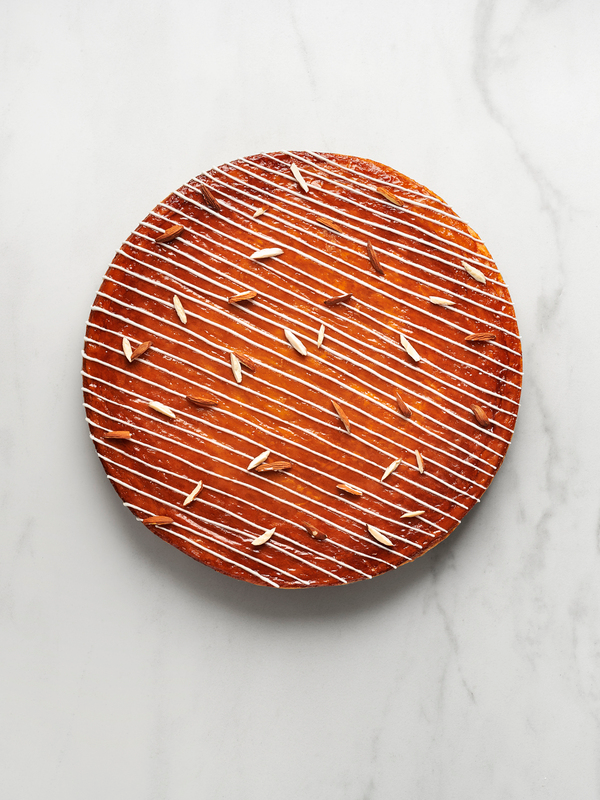 Using the dough hook of the stand mixer, combine the two types of flour, butter and salt while slowly drizzling in the vinegar and water.
Form into a ball and let rest in the refrigerator.
Roll out the dough and insert the butter sheet.
Close the dough parcel and give it its turns.
Prepare a traditional pastry cream.
350 g
milk
50 g
sugar
70 g
Egg yolks
15 g
cream powder
15 g
plain flour (T55, approximately 11% protein)
3
Speculoos frangipane cream
Cream the softened butter with the two types of sugar and the cinnamon.
Add the ground almond and flour.
Gradually incorporate the eggs.
Stir until smooth then add the room-temperature pastry cream followed by the warmed rum.
350 g
Dairy Butter 82% fat – Block
135 g
sugar
180 g
light brown beet sugar
10 g
cinnamon powder
350 g
egg
350 g
ground almonds
50 g
plain flour (T55, approximately 11% protein)
210 g
pastry cream
35 g
dark rum
Blanch the whole oranges in salted water.
Cut into pieces and blend with the juices using a hand mixer.
Heat to 40°C then add the combined pectin, sugar and dextrose.
Heat to 100°C (40° Brix). Remove from the heat and let cool.
130 g
orange
110 g
orange juice
45 g
lemon juice
40 g
sugar
15 g
yellow pectin
30 g
dextrose
Combine the egg whites with the sifted icing sugar then add the vinegar.
40 g
egg white
200 g
icing sugar
1 g
white vinegar
200 g
whole raw almonds
100 g
maple syrup
 SQ
sugar
Perform 5 single turns on the dough, respecting the resting time between each. Roll out to a thickness of 2 mm and cut into Ø26 cm circles. Let rest.
Pipe out 300 g of speculoos frangipane in Ø20 cm circles on sheets of baking paper. Pipe out 60 g of citrus confit then pipe out another 100 g of frangipane. Smooth, then place in the freezer.
Moisten the edges of a puff pastry circle with water using a brush. Place a frangipane insert in the centre. Top and seal with another circle of puff pastry giving it a quarter turn. Turn the galette over and moisten with a brush and sprinkle with sugar. Turn the galette over placing the sugar coated side on the sheet of baking paper. Prick the surface and bake in a 165°C convection oven for approximately 50 minutes.
Remove from the oven, turn the galette over and glaze lightly with maple syrup then return to the 165°C oven for another 5 minutes. Let cool for 5 minutes then, using a piping cone, decorate with royal icing, scatter with slivers of raw almonds and let dry in the 165°C oven for 3 minutes.