Corman products used
for this recipe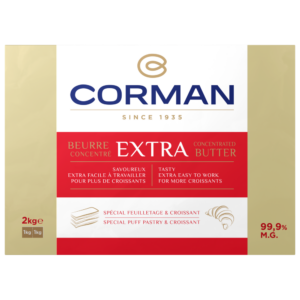 Extra concentrated butter 99.9% fat - Sheet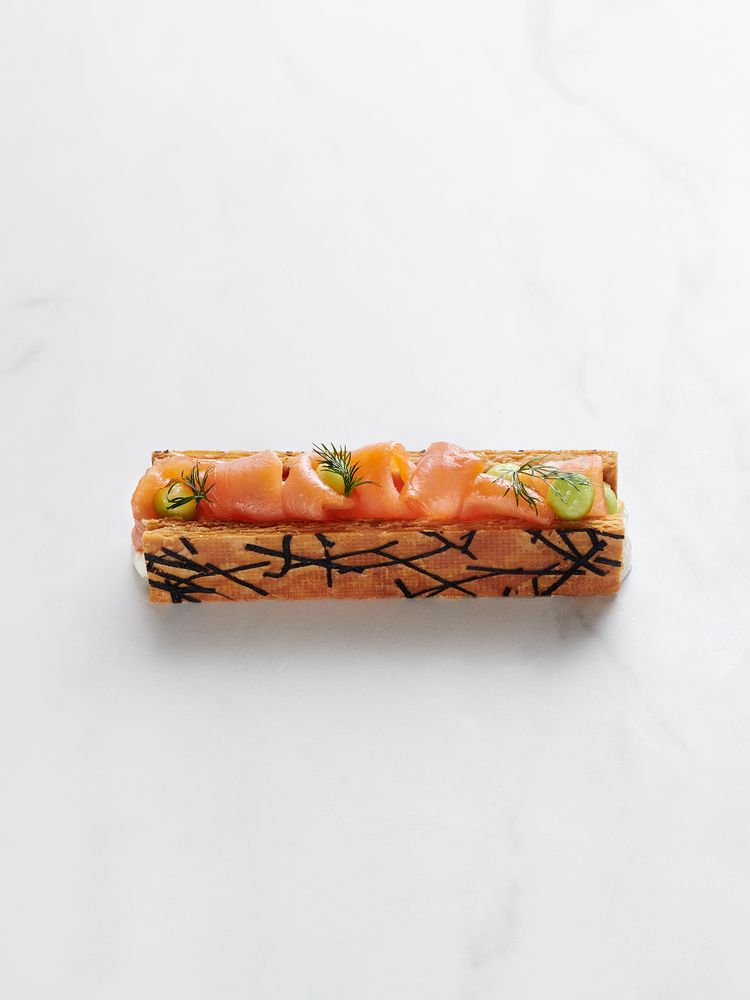 In a mixer fitted with a dough hook, mix together the flours, salt, cubes of butter, vinegar and water. Roll into a ball and leave to cool in the fridge.
Carry out six simple turns with the butter sheet.
*For an even more pronounced roasted butter taste, you can replace the butter with Corman Roasted Butter bucket 2 kg.
2
Garnishing and assembly
Roll out three sheets of puff pastry dough (60×40 cm) in the dough roller, 1.5/2.
Bake in a fan oven at 175 °C for 20 to 25 minutes between two sheets of greaseproof paper and with a grate placed above.
Leave to cool and cut into 12-cm x 3-cm rectangles.
Cut the cucumbers into small dices.
Loosen the cream cheese with a spatula. Add 12 g of dill, the mustard and the grated lime zest and mix. Add the diced cucumber, season and mix gently.
Cut the salmon slices into two or three.
Assemble the mille-feuille's with the salmon slices and the cream cheese/cucumber. Then decorate with the rest of the crushed dill.
30
slices of smoked salmon
1000 g
cream cheese
400 g
cucumber
20 g
crushed dill
1
lime
40 g
mustard
salt and pepper