Corman products used
for this recipe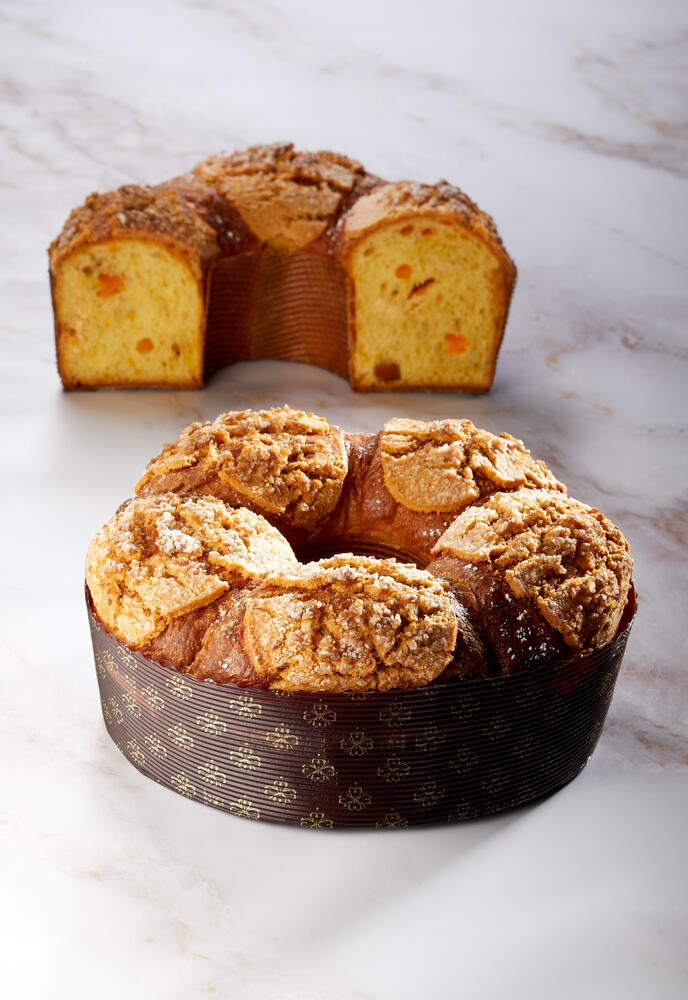 Mix the first four ingredients, then pour in the flour and sourdough.
Knead for about 15 minutes, then pour in the butter and the egg yolks (2).
Knead again for 20 to 25 minutes at 24-26°C.
Leave the dough to rise at 26°C for 10-12 hours, until it has reached 1.7 times its initial volume (740 g of dough in a 200 cl cylinder must reach the top).
Brush with butter and place in the fridge at 4°C for an hour.
2
Passion fruit jelly with gellan gum
Mix all the ingredients cold, heat slowly up to 90°C, allowing the gelatine time to rehydrate.
Arrange immediately in a square mould.
Remove from the mould after 2 minutes, leave to cool and cut to a suitable size for use inside the cake.
1000 g
passion fruit puree
250 g
water
150 g
caster sugar
50 g
gellan gum
Mix together all the dry ingredients and, in the meantime, warm the butter to 45°C.
As soon as the butter has melted, pour in together with the water and knead.
Spread out between two baking sheets to a thickness of 2.5 mm, and leave to crystallise in the refrigerator 12 hours.
Add the first dough piece into the bowl of a spiral mixer together with the egg yolks (1) and the flour, knead for about 17 minutes or until it develops a good elasticity.
Then add the sugar and candied orange, continue kneading until elastic.
Add the honey infused with the orange zest prepared a day in advance.
Once elasticity is regained, drizzle over the cream, then add the salt.
Lastly, pour in the butter combined with the white chocolate, vanilla and egg yolks (2).
Finish kneading and pour in the chocolate chips and passion fruit cubes, then leave to run for 1 to 2 minutes.
Place in a suitable container for one hour at 32°C.
Divide the dough and place on wooden or other crosses for 15 minutes at room temperature, then divide into 10 pieces each weighing 780 g.
Next, divide each piece into 5, shape into a ball, and place in 5 paper savarin moulds.
Allow to rise at 28°C, at a relative humidity of 75%, for 5 to 6 hours.
When ready to bake, refrigerate for 15 minutes, cut out a disc of crumble and place it on top.
Brush with the egg white, sprinkle with cane sugar and bake.
Bake at 175°C for 42 minutes (95°C in the middle).
3830 g
first dough piece
QS
egg whites
1250 g
passion fruit, cubed
550 g
33% white chocolate chips
8 g
300 g
white chocolate 33%
525 g
Traditional Butter 82% fat – Block
150 g
egg yolks (2)
34 g
salt
400 g
Selection Cream 35% fat
30 g
grated orange zest
125 g
honey
200 g
candied orange paste
350 g
sugar
200 g
egg yolks
500 g
QS