Recipe calculated for 4 pieces
5 completion stages
Corman products used
for this recipe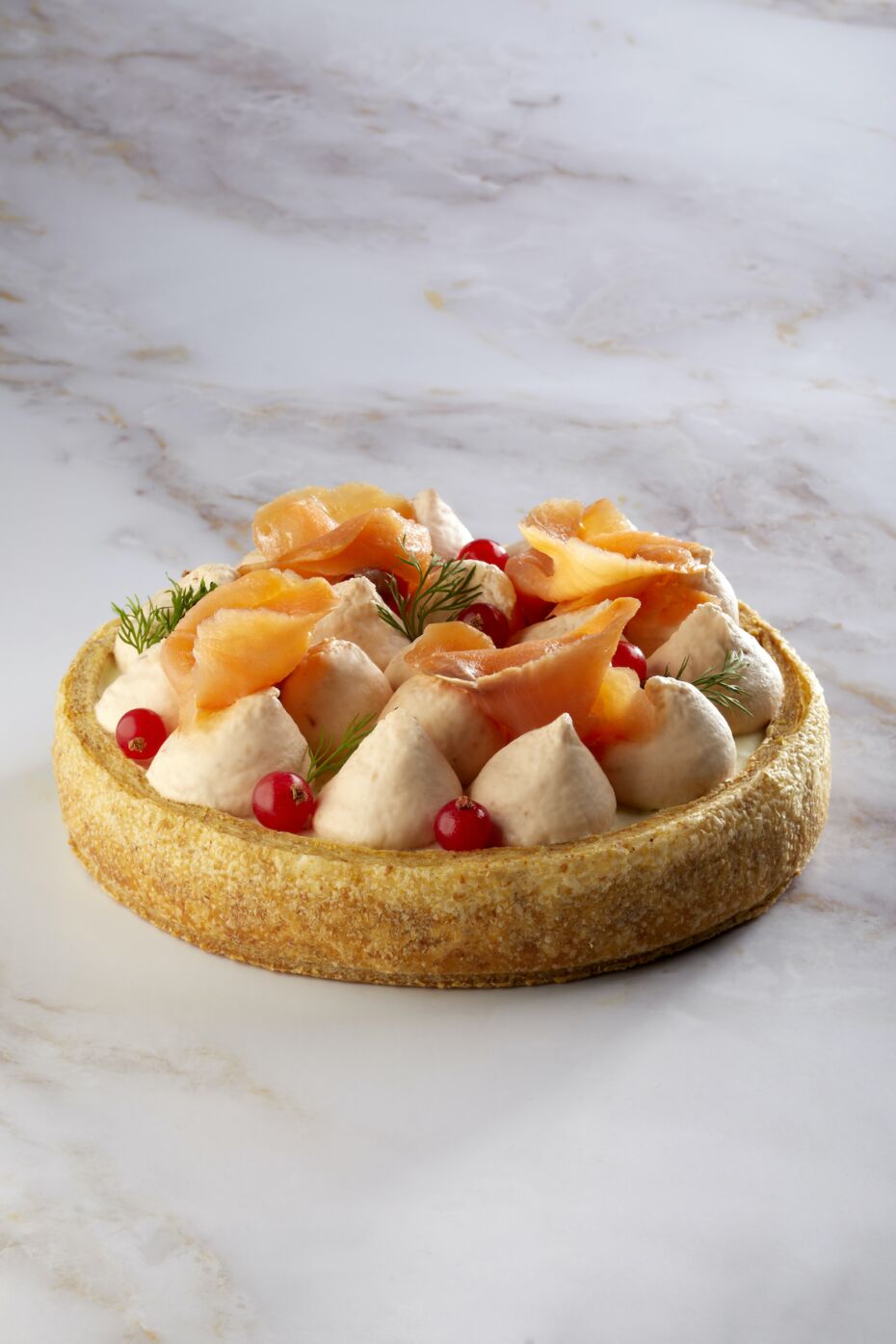 1
Slightly flaky shortcrust pastry made with cornflour
Soften the butter to 22 °C and mix it together with the flours until they are well incorporated into the mixture.
Dissolve the dextrose and the salt in the eggs and water, then knead this together with the first mixture.
Roll out the dough and make one book fold, then leave to rest for 2 hours in the refrigerator.
Take the dough out of the refrigerator, roll it out and place the sheet of butter in the centre, then make three letter folds.
Wrap the dough in clingfilm and chill in the refrigerator for 1 hour.
Finely chop the fresh dill and mix it with the butter.
Set aside for 12 hours at room temperature.
Hydrate the gelatine in the cold water.
Bring the milk to the boil.
Meanwhile, mix the erythritol and starch together, then add the eggs and salt.
Mix well to prevent any lumps forming.
Pour in the boiling milk and bring the mixture to the boil.
Then, add the liquid butter and the gelatine.
Mix using a hand-held blender.
Set aside in a blast chiller until the mixture reaches 25°C, then incorporate the whipped cream with the cream cheese and fill the bottoms of the tarts with the mixture.
Set aside in a blast chiller.
Cook the salmon in a non-stick frying pan.
Combine the other ingredients and mix everything together well.
Melt the gelatine and incorporate it into the mixture.
4
Lemon-flavoured gelatine
Mix all the ingredients together until the mixture is smooth and looks slightly gelatinous.
Leave to marinate for at least 10 minutes, then strain and place in a sous-vide bag.
Store in an airtight container.
197 g
Cold process gelatine
56 g
lemon juice
6 g
Grated lemon peel
38 g
water
Roll out the shortcrust pastry to 3 mm thick and use it to line four rings that are 18 cm in diameter and 2 cm high.
Bake at 170 °C for 18 minutes.
Fill the base of the tart to the edges with the light dill cream.
Place in a blast chiller.
Once stabilised, decorate with dots of salmon mousse, smoked salmon, fresh spinach leaves and redcurrants.