Lady Bee
An original recipe from

Giambattista Montanari

5 completion stages
Corman products used
for this recipe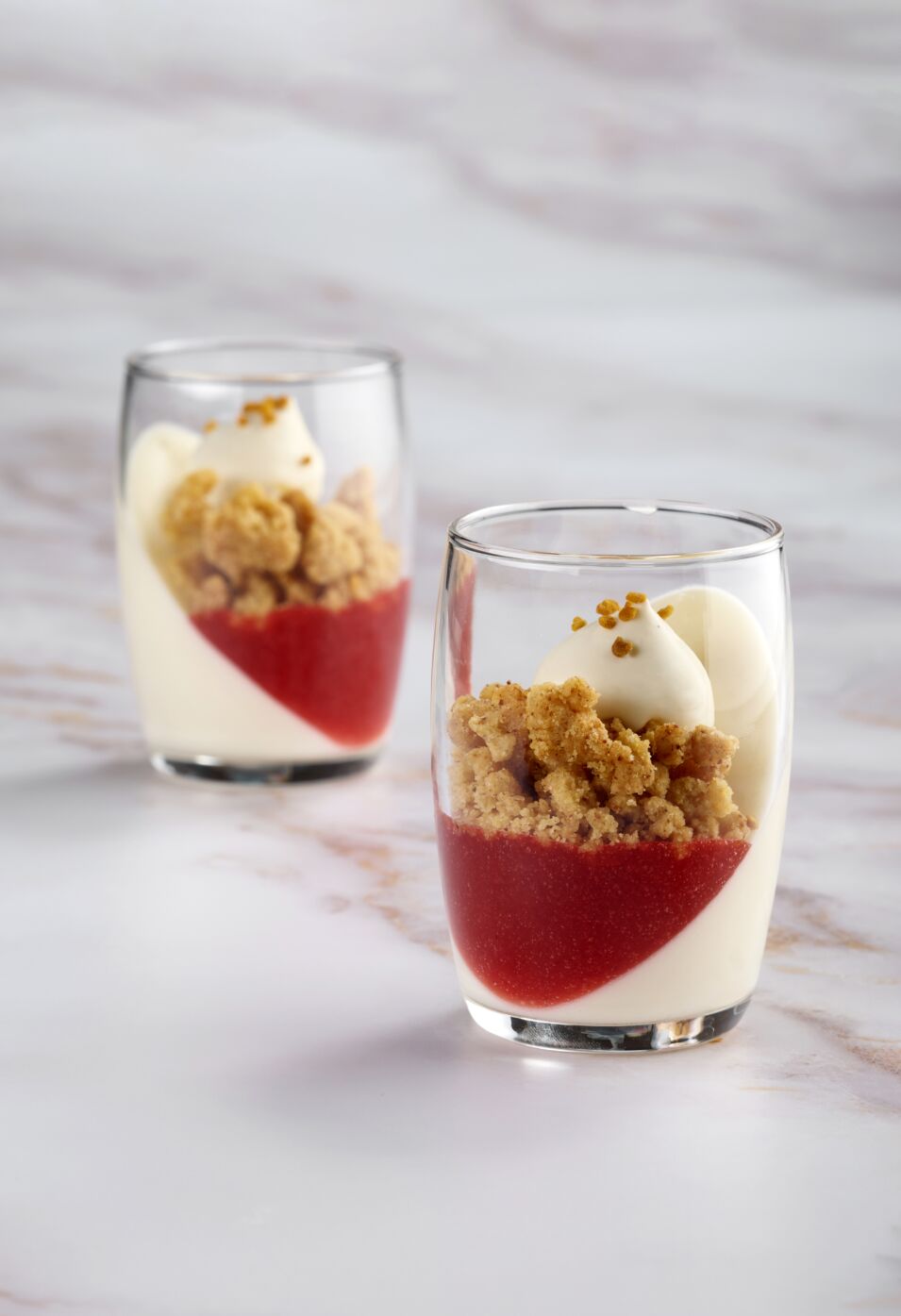 1
Yogurt and honey cremeux
Heat the first 5 ingredients to 50°C, stir in the gelatine mass and pour over the couverture and cocoa butter previously heated to 45°C.
Mix well to emulsify.
Add the 400 g of cream and emulsify again.
Refrigerate (4°C) overnight.
122 g
non-fat yogurt 0.1% M.F.
48 g
Elle & Vire Professionnel® Soft Style Cream Cheese
80 g
Selection Cream 35% fat
40 g
powdered yogurt
48 g
Acacia honey
48 g
gelatin mass
200 g
white covering
44 g
cocoa butter
400 g
Selection Cream 35% fat
2
Pollen and walnut crumble
Using the paddle attachment of a stand mixer, combine the first 6 ingredients.
Heat the butter to 45°C and add to the other ingredients with the machine running.
Once it has formed a dough, refrigerate for 12 hours before using.
Work through a coarse sieve and spread the crumbs on a baking tray lined with parchment paper.
Bake at 175°C for approximately 16 minutes.
Heat the strawberry puree and honey to 60°C. Add the gelatine mass.
235 g
strawberry puree (10%)
90 g
Acacia honey
42 g
gelatin mass
4
Velvety chamomile and lemon cream
The day before, infuse the milk with the chamomile flowers.
The following day, heat the mixture, strain and weigh, adding enough milk to have the original weight required.
Melt the chocolate (50°C) and add the lemon peel.
In a saucepan, bring the milk and glucose syrup to the boil and add the gelatine mass.
Gradually pour the infused milk over the chocolate, whisking vigorously.
Mix for 2 minutes, being careful to not incorporate air bubbles.
When it has cooled to 35°C, add the previously whipped together cream and mascarpone.
Mix again.
Cover the surface with plastic wrap and refrigerate (4°C) for at least 6 hours.
320 g
whole milk
25 g
chamomile flowers
275 g
white chocolate
15 g
fresh lemon peel
15 g
glucose syrup DE 60
36 g
gelatin mass
80 g
mascarpone
240 g
Selection Cream 35% fat
Incline the verrines and pour in 32 g of yogurt and honey cremeux.
Let set.
Place the verrines upright and pour in 12 g of strawberry gelée and smooth the surface.
Sprinkle with the pollen crumble to decorate and top with a dollop of velvety chamomile cream.