Banana and passion fruit cake
An original recipe from

Giambattista Montanari

6 completion stages
Corman products used
for this recipe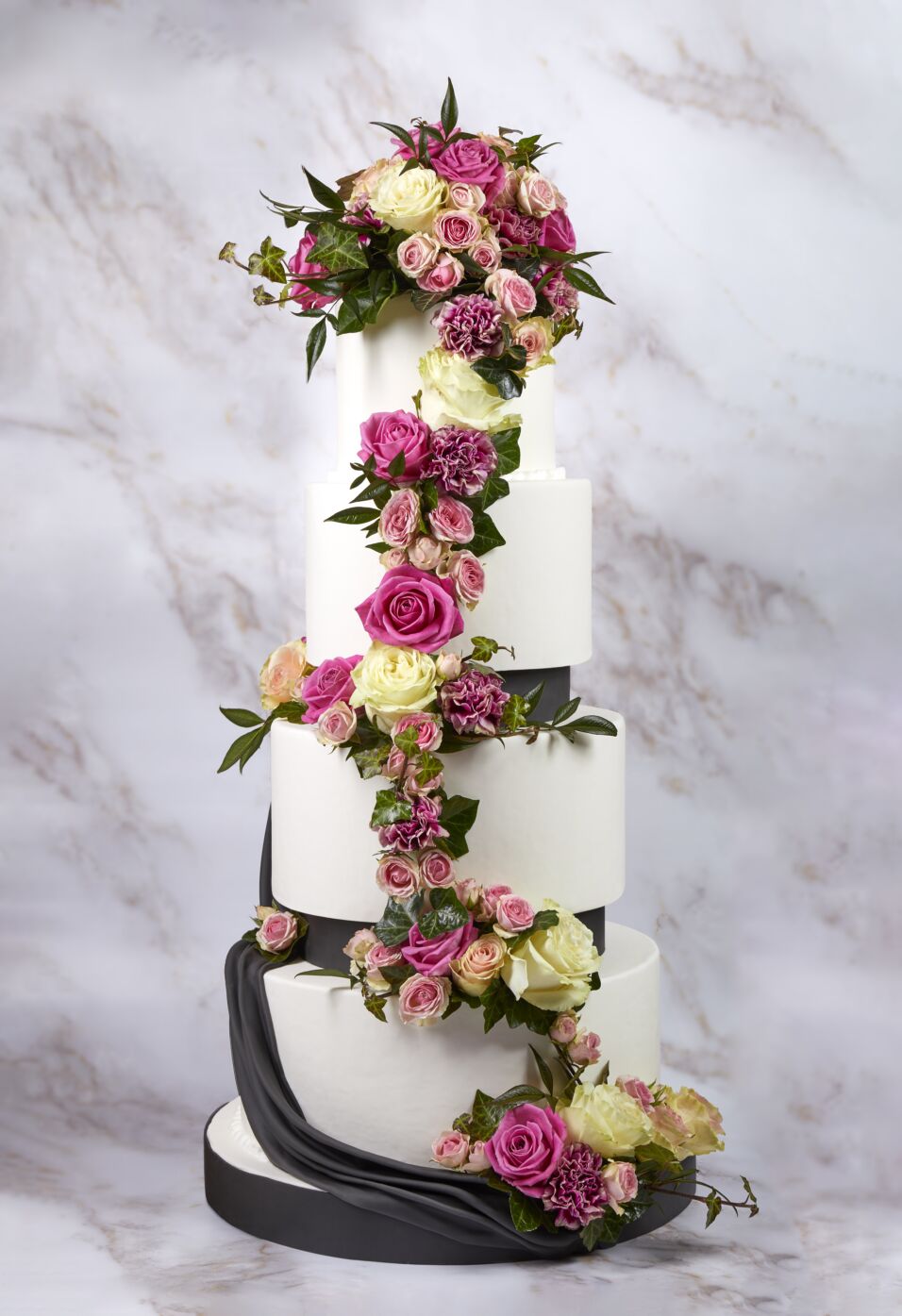 1
Milk chocolate and banana suprême
Heat the first 5 ingredients to 82°C, add the lemon juice and the gelatine, then pour onto the broken up milk chocolate couverture and mix with a hand-held blender.
Leave to cool to 35°C, then incorporate the slightly whipped cream.
100 g
Sculpture 30.2% fat
100 g
milk
37 g
Egg yolks
30 g
fine sugar
150 g
Banana pulp with 10 % sugar
30 g
lemon juice
40 g
gelatine mass
300 g
Milk chocolate (39% cocoa) couverture
250 g
Sculpture 30.2% fat
Pour the crème anglaise onto the white chocolate couverture and gelatine and mix.
Fold the purées in gently.
Beat the slightly whisked cream mixture and when it reaches 25°C, mix together with the semi-whipped cream.
335 g
Basic crème anglaise
114 g
White chocolate (38% cocoa) couverture
45 g
gelatin mass
50 g
passion fruit puree
74 g
banana purée
305 g
Sculpture 30.2% fat
Mix all the ingredients together and place on the heat or an induction hob and heat to 85°C.
Strain through a fine sieve.
4
Hazelnut praline crunch
Melt the chocolate couverture, add the hazelnut praline and mix well.
Gently fold in the wafer pieces so you don't break them and they keep their crunchy texture.
125 g
hazelnut praliné
50 g
Wafer pieces
50 g
milk chocolate
Whisk the eggs, tant pout tant, sugar and flour together.
At the same time, whisk the egg whites and melt the butter.
Add the hot butter to the whipped mixture and lighten with the egg whites.
Spread on Silpat baking mats or on greaseproof paper. Cook at 240°C-250°C for 7 minutes.
Note: 600 g per sheet.
Make an insert by placing a disk of joconde biscuit in a ring with hazelnut praline spread, dress with passion fruit mousse, and place a disk of joconde biscuit of equal size on the insert.
Freeze.
Place the insert in a ring two cm larger than the insert, pour the milk chocolate and the banana supreme. Level and refreeze.
Once removed from the mold, cover with 75% mounted Sculpture and top with sugar paste. Assemble the trays and decorate as desired.