An original recipe from

Giambattista Montanari

Recipe calculated for 35 pieces
5 completion stages
Corman products used
for this recipe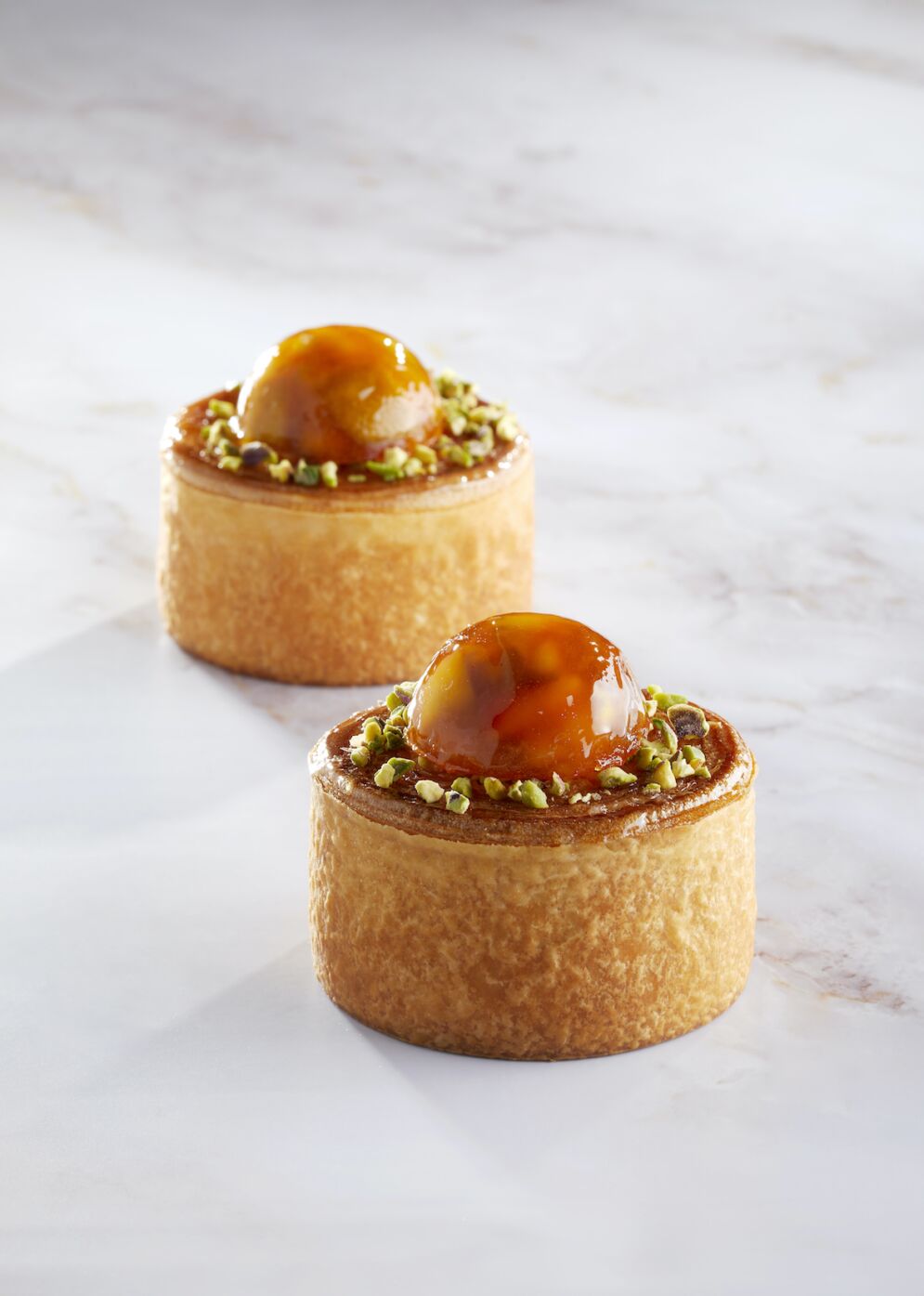 Place all the ingredients in the machine and knead for 10-12 minutes.
Once the dough has been kneaded it should have a temperature of about 22°C.
Leave to rise at 22°C for 45 minutes.
Roll out the dough without any butter until it is the size of a baking sheet, wrap it in clingfilm and place in the refrigerator straight away to chill overnight (0°C to -3°C).
The next day, take the butter sheet out of the refrigerator at least 10 minutes before you are going to use it and roll it out to 8 mm thick.
Then, incorporate it into the dough, making a book fold and a letter fold.
2
Mango & yuzu hemisphere
Caramelise the sugar until you obtain a dry caramel and stir in the boiling yuzu purée to stop the caramelisation process.
Add the mango cubes and continue cooking until everything is dry, then add 10 g of starch.
Take off the heat and place in hemisphere moulds.
Freeze then remove from the moulds.
Leave in the freezer until needed.
1080 g
Mango, not too ripe
500 g
yuzu puree
240 g
sugar
10 g
starch
Place the butter at 22°C in the bowl of a stand mixer fitted with a flat beater and start to mix.
Add the grated coconut and the sugar.
Mix well and add the eggs.
Lastly, add the flour.
In a stand mixer, mix together the sugar and the grated coconut.
Heat the butter to 45°C to melt and pour over the other ingredients.
Then, chill in the refrigerator for 12 hours.
Roll out the dough to 2.5 mm thick.
Cut it into 3.5 cm x 32 cm strips, then use them to line stainless steel rings that are 10 cm in diameter and 4 cm high.
Fill halfway with the frangipane and then cover with the coconut crumble until they are three-quarters full.
Leave to rise at 26°C for approx.
1 hour 30 minutes, then cook under pressure (place a Forosil mat on top of the rings and a baking sheet on top of that).
Bake for 18-20 minutes at 180°C.
Then, add a mango and yuzu hemisphere in the centre of each one and decorate around the edges with pistachio kernels.