Raspberry pistachio squares
Corman products used
for this recipe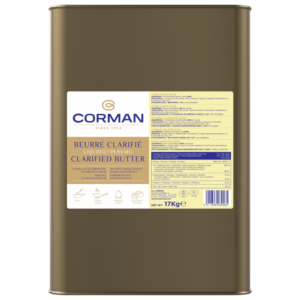 Liquid Clarified Butter 99,9% fat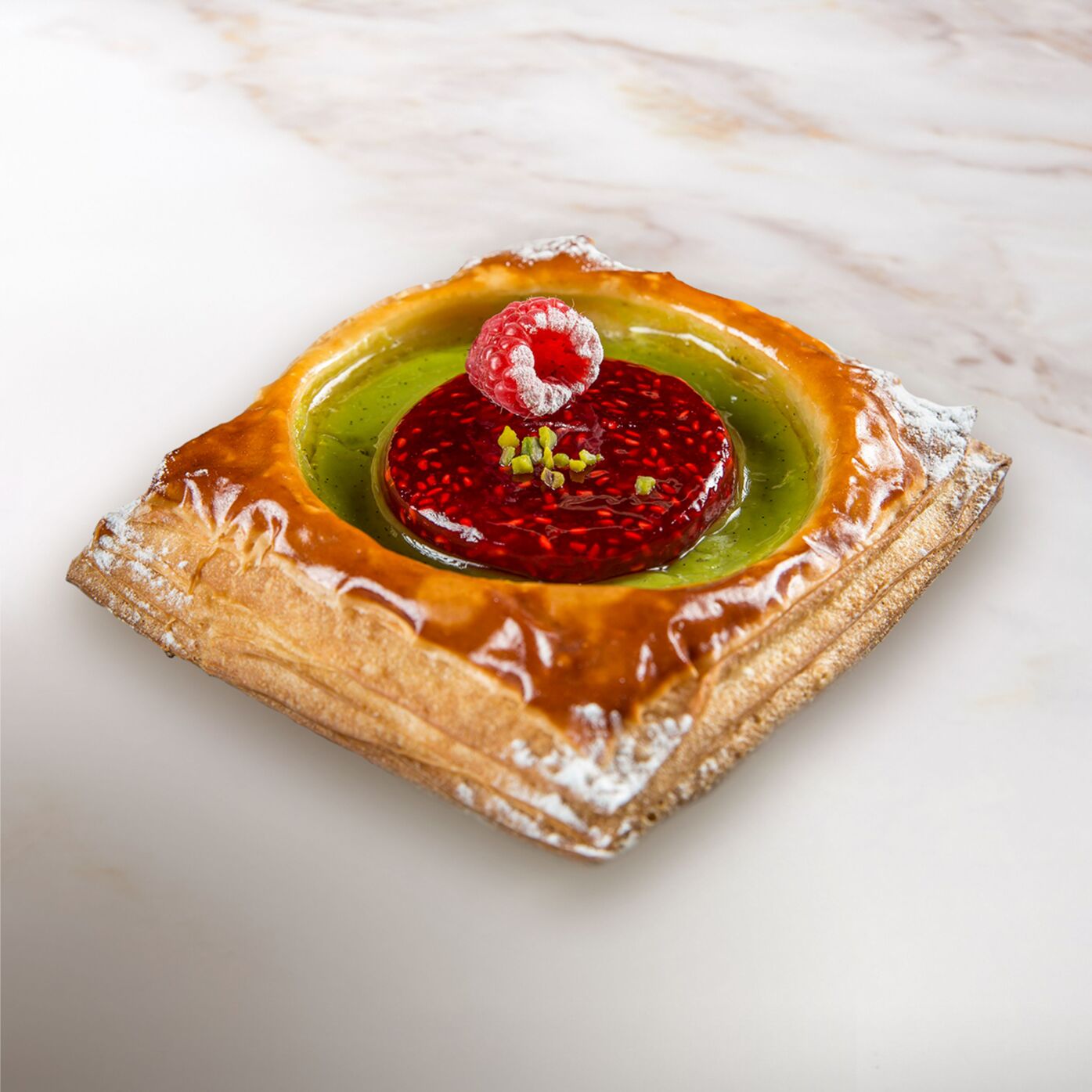 Make the raspberry-pistachio squares
Using a pastry bag with a 12 mm round nozzle, pipe pistachio pastry cream into 8 cm diameter flexipans and freeze.
Incorporate the 250 g of laiterie corman butter for puff pastry into the 940 g of croissant dough and give it one double turn, followed by one single turn.
Allow to rest for 30 minutes in the refrigerator.
Roll out the dough to a thickness of 4 mm in a 55 x 33 cm rectangle.
Cut out 11 × 11 cm squares and place them on baking sheets.
Prove for two hours at 25°c.
Egg wash and place a disc of pistachio pastry cream on top.
Cook at 220°c in a deck oven, or 170°c in a convection oven, for about 15 minutes.
Place the disc of raspberry compote on top and lightly glaze.
Sprinkle the corners with snow decoration.
Mix 1/3 of the sugar with the pectin.
Warm the pulp and the remaining sugar, add the sugar pectin mixture.
Bring to the boil and cook for 5 minutes.
Pour into ø 60 mm flexipans, to make 15 discs of approx. 20 g.
Freeze.
280 g
Raspberry pieces
110 g
sugar
5 g
pectin NH
Heat the milk, half the sugar, the laiterie corman butter and vanilla split lengthwise.
Bring to the boil, cover with plastic film and leave to infuse for 10 minutes. Mix the remaining sugar and pastry cream powder in a bowl, add the egg yolks and whisk.
Bring the milk back to the boil, remove the vanilla pod after scraping out the seeds, pour half over the yolks, whisking, and then tip the contents of the bowl back into the saucepan with the milk.
Bring to the boil for about two minutes tip out onto a baking sheet covered in plastic film.
Cover the top with plastic film and place in the freezer for 15 to 20 minutes to cool the pastry cream.
Store in the refrigerator until required.