An original recipe from

Giambattista Montanari

Recipe calculated for 6 pieces
4 completion stages
Corman products used
for this recipe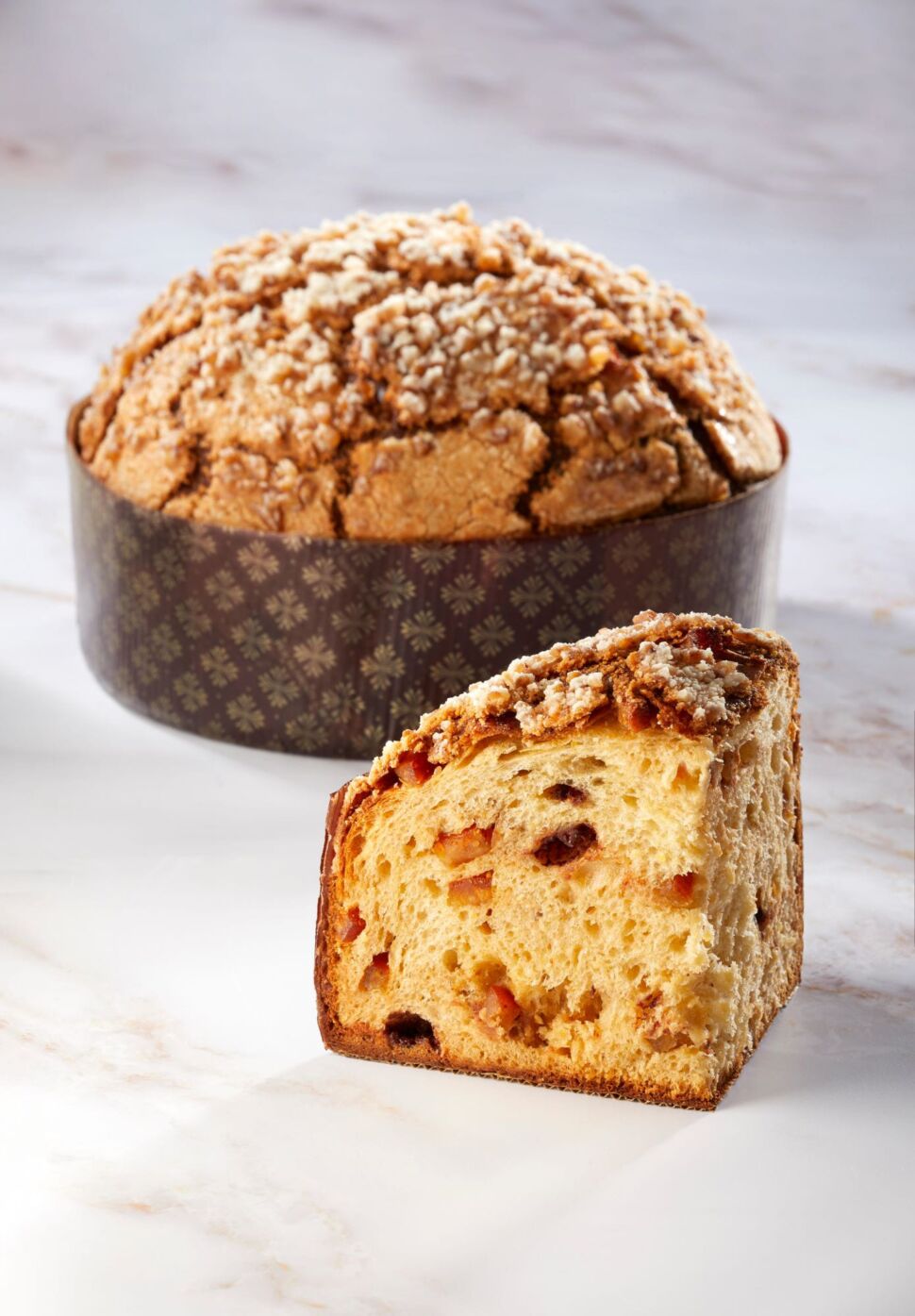 Make a starch paste from the corn flour and water (1) and leave it to cool.
Add the flour and combine until the mixture has a uniform consistency.
Mix together the cream, egg yolks, malt and water (2), then knead for 30 to 40 seconds, the time it takes to absorb the liquids.
Cover with plastic film and leave to rest for 45 to 60 minutes.
125 g
Corn flour
250 g
water (1)
1000 g
gluten-rich flour
200 g
Selection Cream 35% fat
190 g
Egg yolks
2 g
diastatic malt extract UP 4500/5000
275 g
water (2)
To begin the kneading process, add the sugar, milk powder, powdered mascarpone and sourdough to the autolyse dough.
Knead until it develops a good elasticity.
Stir in the fresh mascarpone and finish the dough.
Knead again for 15 to 17 minutes at 24-26°C.
Leave the dough to rise at 26°C for 12 hours, until it has reached 1.7 times its initial volume (740 g of dough in a 200 cl cylinder must reach the top).
Brush with butter and place in the fridge at 4°C for an hour.
2030 g
autolysis
250 g
sugar
50 g
milk powder
100 g
powdered mascarpone
230 g
sourdough
500 g
Fresh mascarpone
Mix together all the dry ingredients and, in the meantime, warm the butter to 45°C.
As soon as the butter has melted, pour in together with the water and knead.
Spread out between two baking sheets to a thickness of 2.5 mm, and leave to crystallise in the refrigerator for 12 hours.
30 minutes before the first dough is ready, add water to gelatinise the corn flour and set aside to cool.
Add the first dough piece into the bowl of a spiral mixer together with the flour and the first amount of the egg yolks, and knead for 17 minutes until the gluten network has developed.
Once the dough is elastic, add the sugar, honey and powdered milk.
Let it run for 5 minutes, then drizzle over the cream before incorporating the salt and lastly the butter at 20°C.
Once the dough is formed, pour in the pre-mixed fruit and chocolate chips and place in a suitable container.
Keep warm for 30 minutes at 32°C.
Divide the dough and place on a wooden or other base for 10-15 minutes at room temperature, then shape into balls and place in paper moulds.
Allow to rise at 28°C, at a relative humidity of 75%, for 5 to 6 hours.
When ready to bake, refrigerate for 15 minutes, brush the surface of the Pan Meino with egg white and use the candi sugar to stick on a disc of crunchy topping, then sprinkle with icing sugar.
Place in an oven at 175°C and bake for 50 minutes per 1 kg of Panettone (95°C in the middle).
300 g
Corn flour
600 g
water
2970 g
first dough piece
250 g
gluten-rich flour
75 g
Egg yolks
250 g
sugar
250 g
honey
155 g
milk powder
125 g
Selection Cream 35% fat
23 g
salt
150 g
Traditional Butter 82% fat – Block
800 g
candied orange
300 g
chocolate chips
 SQ
egg whites
 SQ
icing sugar
 SQ
candi sugar