An original recipe from

Rony Parijs

Recipe calculated for 60 pieces
5 completion stages
Corman products used
for this recipe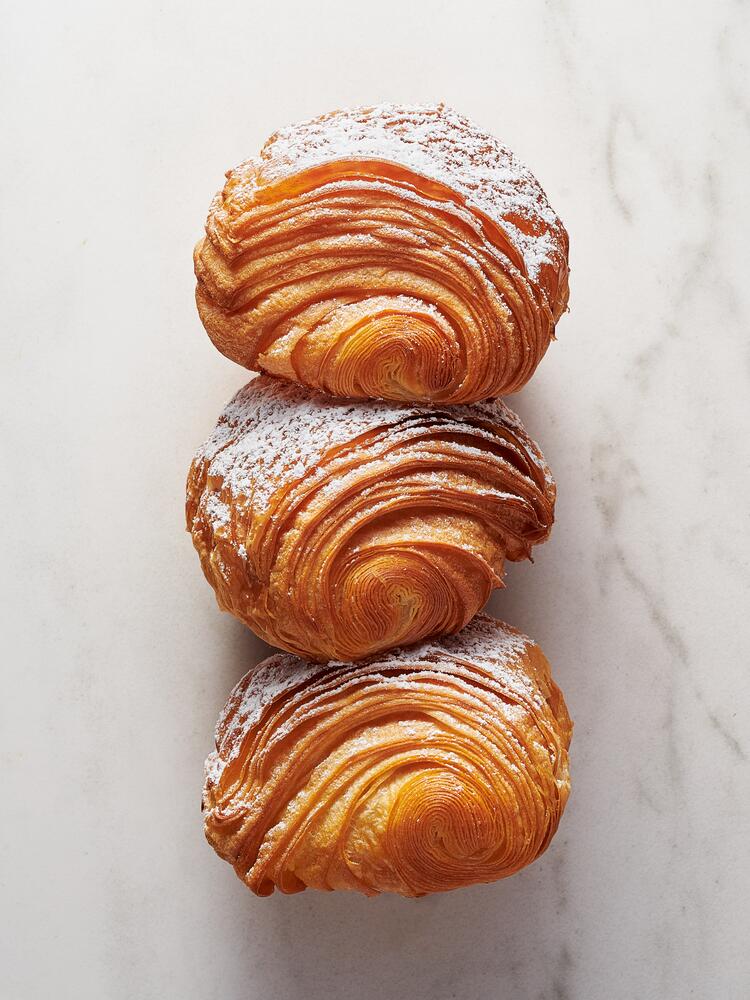 Dissolve the yeast in the cold water.
Combine the flour, salt, sugar, powdered milk, honey, butter (1) and the yeast mixture on Speed 1 for 5 minutes. Knead on Speed 2 for 8 minutes.
Shape into a ball and let rise for 15 minutes.
Punch down, roll out into a rectangle and refrigerate overnight.
2
Sugar/fleur de sel mixture
200 g
sugar
8 g
fleur de sel
3
Egg yolk, cream & milk wash
200 g
egg yolks
50 g
cream
50 g
milk
Enclose the butter sheet (2) in the dough and perform 2 double turns. Let rest in the refrigerator for 30 minutes.
Roll out a butter sheet (3) to a thickness of 7 mm and cut into 6 cm long bars. Roll out the dough to a thickness of 3 mm.
Cut vertically into 8 cm strips. Then cut into 16 cm long rectangles.
Roll each rectangle around one stick of butter and a pinch (3 g) of the sugar/salt mixture. Moisten the seal slightly using a pastry brush. Store in the freezer or let rise immediately for 1¾ hrs at 28°C. Let rest for 15 min in the refrigerator then brush with the egg wash. Bake in a 170°C convection oven for approximately 17 minutes. Let cool then sprinkle with icing sugar.