An original recipe from

Giambattista Montanari

Recipe calculated for 4 pieces
8 completion stages
Corman products used
for this recipe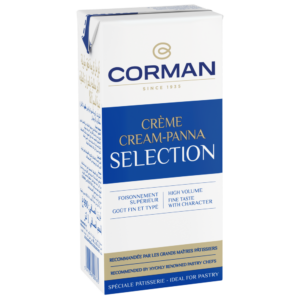 Selection Cream 35% fat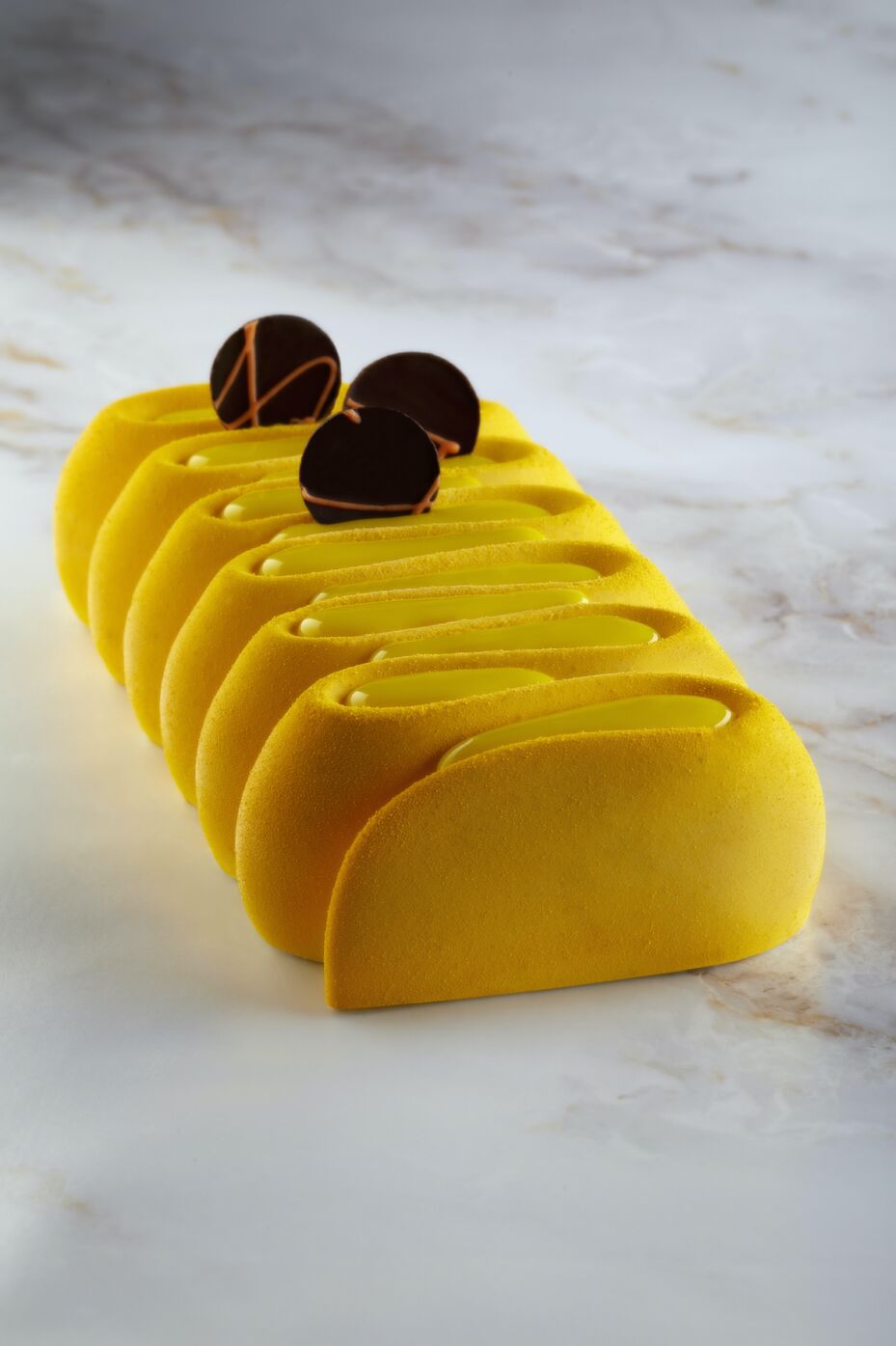 Almond and cream génoise (3 mm)

Almond mousse (12 mm)

Yuzu ganache (10 mm)

Almond and cream génoise (3 mm)

Mandarin mousse (10 mm)

Yuzu mirror glaze (1 mm)
2
Almond and cream génoise
(quantities for a 30 cm x 40 cm frame)
Beat the eggs and sugar with the almond flour.
Separately, whisk the egg whites with the remaining sugar.
Heat the almond paste with the cream.
Gently fold them into the first whipped mixture, followed by the whisked egg whites and flour.
Spread on a Silpat baking sheet and bake at 180°C for approx. 10-12 minutes.
150 g
whole eggs
75 g
caster sugar
105 g
almond meal
92 g
egg white
55 g
caster sugar
25 g
Selection Cream 35% fat
38 g
almond paste
35 g
'00' grade flour – Strength 220 – Resistance/Elasticity 0.5
Put the semifreddo base in the bowl of a stand mixer, add the gelatine and whisk until cool.
Whisk the cream very gently.
Mix the semifreddo base and cream together and add the praline and almond paste.
Mix the ingredients together and cook the semifreddo base to 84°C.
100 g
Syrup at 32° Baumé
100 g
Egg yolks
Put the eggs and sugar in a saucepan and heat to 85°C.
Put the cocoa butter, gelatine and milk powder into a pyrex bowl.
Then, pour the eggs (cooked in advance) over the top and mix together.
Add the purée, taking care not to create any air bubbles.
Leave to crystallise for 12 hours at 4°C.
Use at a temperature of 28°C-30°C.
26 g
Egg yolks
88 g
caster sugar
26 g
dextrose
66 g
yuzu puree
132 g
100% mango puree (Andros Chef)
163 g
cocoa butter
40 g
gelatine
2 g
skimmed milk powder
10 g
Grated Sorrento lemon peel
Melt the gelatine in the mandarin juice and fold into the meringue.
Add the whipped cream at 70%.
In a bowl, bring the water to the boil with the sugar and glucose.
When the mixture reaches boiling point, add the chocolate.
Mix and add the hydrated gelatine, sweetened condensed milk, edible gold powder and food colouring.
Mix gently for 4-5 minutes.
Leave for at least 12 hours at 4°C.
Use at 35°C.
75 g
water
50 g
yuzu puree
225 g
sugar
225 g
glucose syrup
160 g
sweetened condensed milk
90 g
neutral glaze
225 g
white chocolate
114 g
gelatine
1 g
Gold powder
3 g
yellow food colouring
Take three silicone moulds and using 190 g of almond mousse, turn each mould so that the mousse lines the moulds, ensuring it is evenly spread right to the edges.
Then, add a 6 cm x 21 cm strip of the cream génoise.
Put the cake back in the blast chiller each time a layer is added before moving on to the next one.
Add 120 g of the yuzu ganache on top, followed by 180 g of the mandarin mousse and lastly, a disc of the génoise sponge.
Freeze, remove from the mould and glaze.