Recipe calculated for 8 pieces
3 completion stages
Corman products used
for this recipe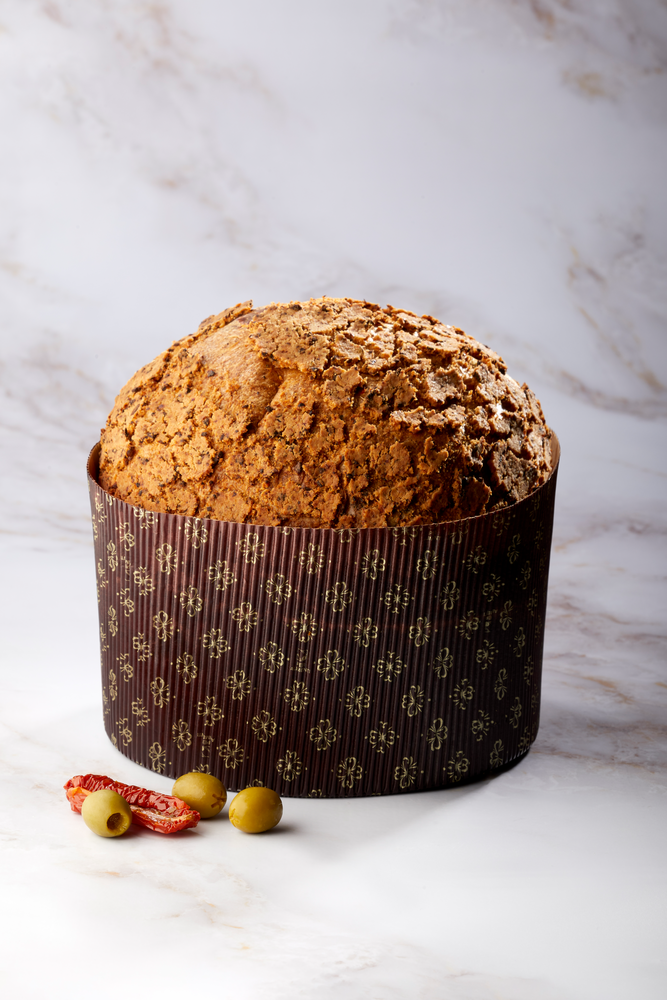 Mix the cream, egg yolks and water (1).
Add the flour and knead for 1 minute or a little longer, the time it takes for the flour to absorb the liquids. Stop the mixer and cover with plastic film to prevent lumps forming, allow to stand for 45 minutes.
During this time, make a starch paste from the black chickpea flour and the water (2).
Once the autolyse preparation is ready, mix the starch paste and add the sourdough and sugar.
Commence kneading and, when the dough is nice and elastic, add the butter at 20°C and finish the dough.
Knead again for 12 to 15 minutes at 25-26°C.
Leave the dough to rise at 22°C for 10-11 hours, until it has reached approximately 1.5 times its initial volume (800 g of dough in a 200 cm3 cylinder must reach the top).
2
Crunchy topping for savoury leavened dough
Add all the dry ingredients into the bowl of a spiral mixer and let it run until the mixture has a uniform consistency.
Melt the butter at 45°C and stir into the dry ingredients whilst leaving the mixer running, then add the water.
Once combined, spread out between two baking sheets to a thickness of 2.5 mm, and leave to cool and stabilise in the refrigerator for 12 hours.
The next day, cut out a few discs of crumble.
Add the first dough piece into the bowl of a spiral mixer together with the flour and the egg yolks, knead for about 17 minutes or until it develops a good elasticity.
Once the dough is elastic, add the erythritol, agave syrup, inulin and dextrose, then continue kneading for a few minutes before adding the salt and drizzling over the cream.
After a few minutes, gradually incorporate the emulsion of butter, water, Caciocavallo, almond flour, pepper and egg which was prepared a day ahead and stored at 16°C for 16 hours.
Finish the dough and add the remaining ingredients, leave it to run for 30 seconds.
Place in a suitable container for 30 minutes at 32-35°C.
Divide the dough, shape into a ball and arrange in paper moulds.
Allow to rise at 28°C, at a relative humidity of 75%, for 5 to 6 hours.
When ready to bake, refrigerate for 15 minutes, cut out a disc of crumble and place it on top.
Place in an oven at 175°C and bake for 50 minutes per 1 kg of Panettone (95°C in the middle).
3888 g
first dough piece
500 g
gluten-rich flour
100 g
Egg yolks
150 g
erythritol
100 g
agave syrup
50 g
inulin
100 g
dextrose
30 g
salt
250 g
Selection Cream 35% fat
473 g
Traditional Butter 82% fat – Block
74 g
water
150 g
Caciocavallo cheese, grated
150 g
almond flour
8 g
pepper
165 g
egg
750 g
olives, stoned
750 g
Caciocavallo, finely diced
400 g
sun-dried tomatoes