Corman products used
for this recipe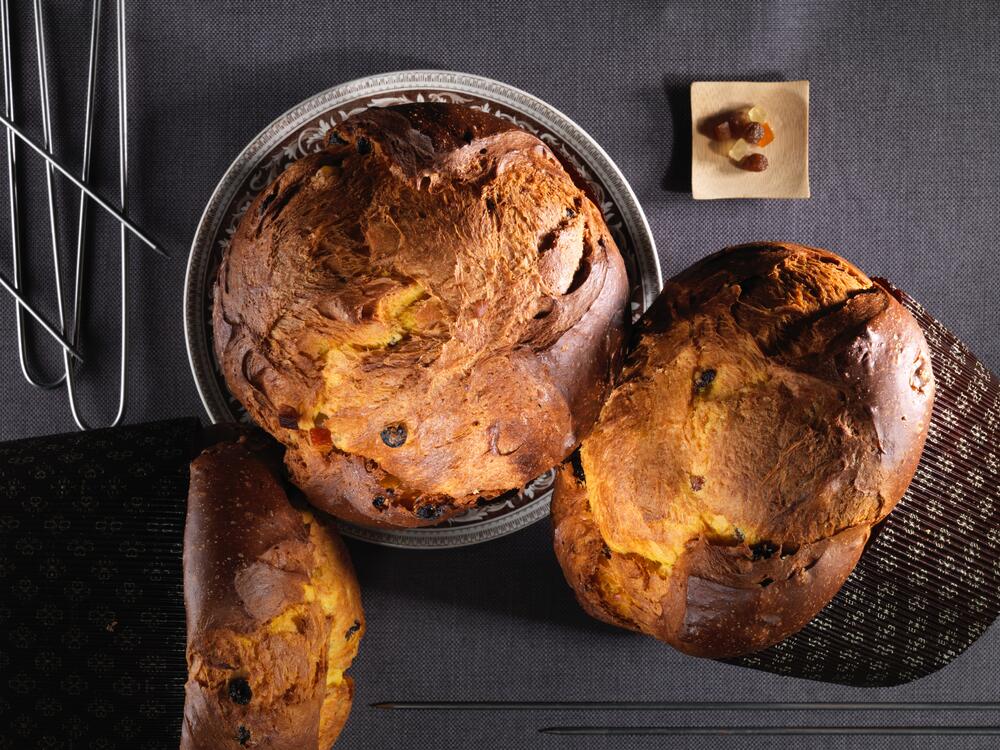 Combine the sugar and egg yolks in the bowl of a spiral mixer fitted with a whisk attachment.
Replace the whisk with a dough hook.
Add the sourdough and leave it running for a few minutes before adding the flour, malt extract and water.
Knead for about 15 minutes, then pour in the cream and lastly, the butter.
Knead again for 20 to 25 minutes at 26-27°C.
Leave the dough to rise at 27°C for 10-12 hours, until it has reached approximately 1.5 times its initial volume (800 g of dough in a 200 cm3 cylinder must reach the top).
Brush with butter and place in the fridge at 4°C for an hour.
Into the bowl of a spiral mixer fitted with a dough hook, add the first dough piece together with the flour and egg yolks (1), and knead for 17 minutes until the gluten network has developed.
Once the dough is elastic, add the sugars, egg yolks (2) and leave to run for 5 minutes.
Add the salt and stir for a few minutes.
Drizzle over the cream and add the egg yolks (3), then gradually add the butter mixed with the orange and lemon zests, honey and vanilla.
Knead for 7 to 8 minutes.
Next, add the fruit, leaving the mixer on for 1-2 minutes.
Place in a suitable container for one hour at 32°C.
Divide the dough and rest on a wooden stand for 15 minutes at room temperature, then shape into balls and place in paper moulds.
Leave to rise at 28°C at a relative humidity of 75% for 5 to 6 hours.
When ready to bake, refrigerate for 15 minutes, before baking in an oven at 175°C for 50minutes (per 1kg Panettone – 93°C in the middle).
8590 g
first dough piece
1500 g
200 g
egg yolks (1)
500 g
sugar
100 g
invert sugar
300 g
egg yolks (2)
34 g
salt
500 g
Selection Cream 35% fat
500 g
1166 g
Traditional Butter 82% fat – Block
200 g
honey
3
orange zest
3
grated lemon zest
4
2000 g
1200 g
candied orange, cubed
300 g
candied citron, cubed