Corman products used
for this recipe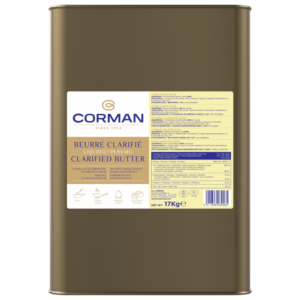 Liquid Clarified Butter 99,9% fat
Mix all the dry ingredients together and put them in the bowl of a stand mixer.
Melt the butter and the praline together at 40°C and mix.
Mix together the eggs, honey and zest together.
Then, stir it into the dry ingredients until combined.
Lastly, add the hot butter and praline mixture.
Leave to rest overnight before baking.
Pour into a mould and bake at 175°C for 25 minutes.
Once cooled, remove from the moulds and fill.
120 g
sugar
20 g
Trehalose
65 g
orange blossom honey
225 g
whole eggs
2
grated orange zests
225 g
flour
300 g
Liquid Clarified Butter 99,9% fat
100 g
almond praline 60/40
10 g
Impulsor Slow
2
Orange and gianduja filling
Melt the chocolate and mix everything together.
Heat the mixture to 24°C and use it to fill the cakes.
Leave them to cool before covering them with the glaze.
1000 g
dark orange chocolate Valrhona
300 g
roasted almond pure paste
20 g
sweet almond oil
Melt and mix everything together.
Immerse the frozen cakes into the mixture at 32°C.
Decorate.
500 g
Dulcey chocolate
500 g
almond inspiration Valrhona®
160 g
organic almond oil
80 g
roasted almond pure paste
2 g
fleur de sel