Recipe calculated for 60 pieces
5 completion stages
Corman products used
for this recipe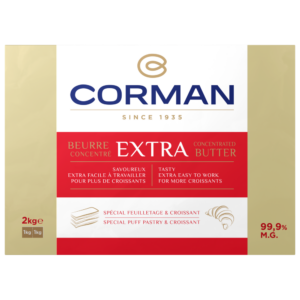 Extra concentrated butter 99.9% fat - Sheet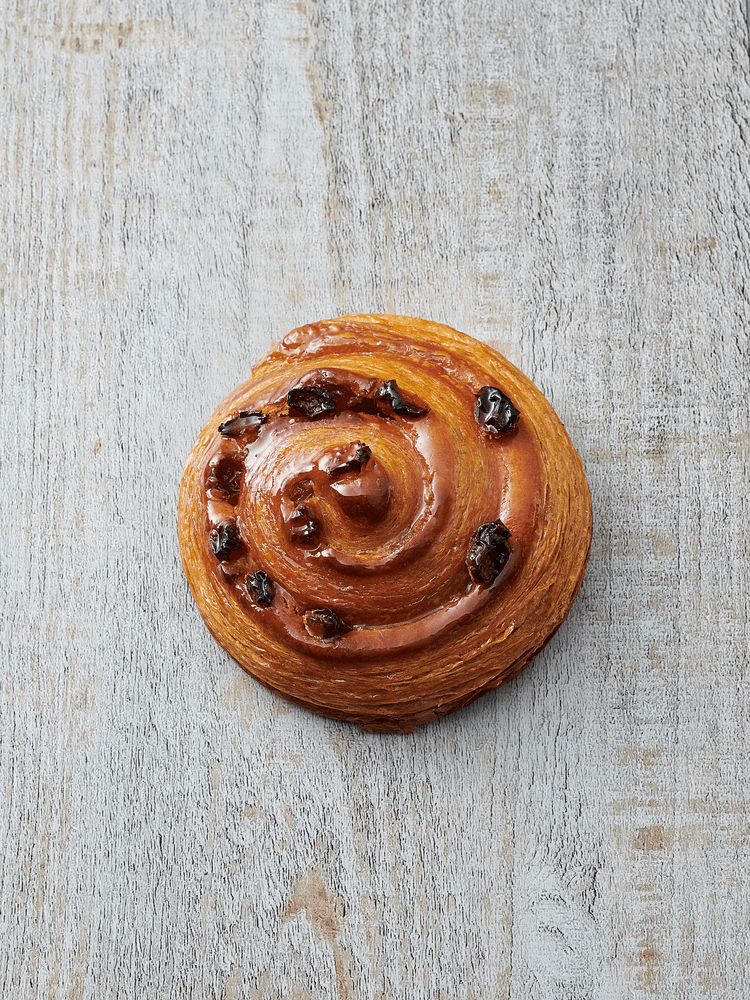 Mix together the plain and strong white flours, salt, sugar and butter. Add the yeast that has been mixed together with the milk and eggs.
Knead on the lowest speed setting for five minutes and on the second lowest speed setting for 15 minutes.
Roll into a ball and let it rise for one hour. Knock back the dough and chill.
*For an even more pronounced roasted butter taste, you can replace the butter with Corman Roasted Butter bucket 2 kg.
Heat the juices, pour the grapes and swell overnight.
500 g
golden raisins
340 g
orange juice
35 g
yuzu juice (or rhum, depending on which you prefer)
Make a crème pâtissière, and add the cream cheese and the gelatine mass when cooked.
1000 g
milk
80 g
flour
80 g
cream powder
200 g
sugar
200 g
egg yolks
10 g
vanilla extract
250 g
77 g
gelatin mass
Bring the water, brown sugar, glucose and the gum arabic to a boil.
250 g
water
250 g
brown sugar
100 g
glucose
70 g
gum arabic
With the butter sheet, carry out three simple turns with the puff pastry brioche dough. Leave to rest in the cold.
Roll out to 3.5 mm thick, 35 cm wide.
pread 1,500 g of garnish on the puff pastry brioche dough.
Sprinkle on 850 g of macerated raisins.
Roll and leave to rest in a cool place. Cut into rounds of 3 cm (approximately 100 g).
Place into 11-cm buttered rings to expand at 26 °C for approximately two hours.
Cook at approximately 165 °C for 18 minutes in a fan oven with the releasing valve closed. Add the syrup when taken out of the oven.