Matcha Gianduja Croissants
An original recipe from

Giambattista Montanari

Recipe calculated for 55 pieces
3 completion stages
Corman products used
for this recipe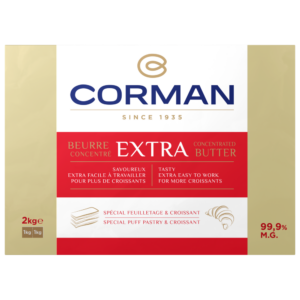 Extra concentrated butter 99.9% fat - Sheet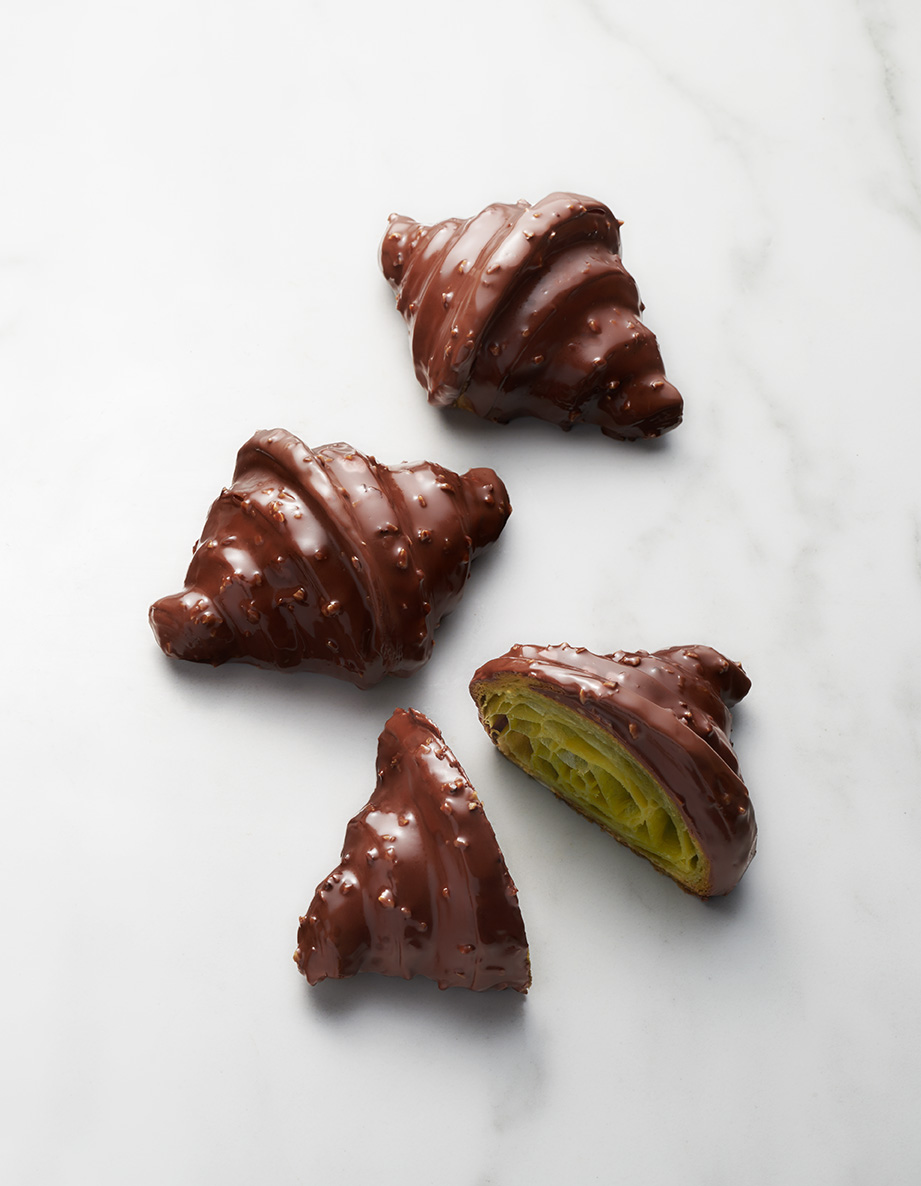 Dissolve the yeast in the cold milk.
Combine the two types of flour, the salt, sugar, matcha green tea, butter cut in cubes and the yeast/milk mixture on Speed 1 of the mixer for 5 minutes.
Knead on Speed 2 for 8 minutes.
Shape into a ball and let rise for 1 hour. Punch down, roll out into a rectangle and refrigerate overnight.
2
Milk chocolate hazelnut coating
Combine the solid milk chocolate at 29°C with the hazelnut paste and liquid butter.
Mix then add the chopped hazelnuts.
1000
milk chocolate 46%
400 g
hazelnut paste 100%
100 g
Liquid clarified butter 99,9% fat
100 g
Enclose the butter sheet in the matcha dough and perform 1 double turn.
Then give the dough 1 single turn and let rest in the refrigerator for 30 minutes.
Roll out the dough to a thickness of 2.5 mm and cut into triangles measuring 30 cm high by 12 cm at the base (75 g) and cut a notch in them.
Roll up the croissants.
Store in the freezer or let rise for 1¾ hr at 28°C.
Place in the refrigerator for 15 minutes, then brush with egg wash.
Preheat the convection oven to 190°C then reduce the temperature and bake at 170°C or approximately 17 minutes.
Let cool and coat the croissants with the hazelnut coating at 25°C.
Let crystallise.