Recipe calculated for 40 pieces
4 completion stages
Corman products used
for this recipe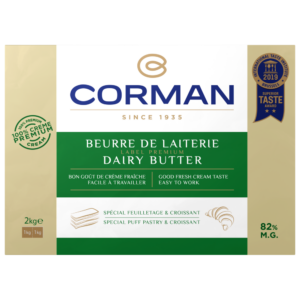 Dairy Butter 82% fat - Sheet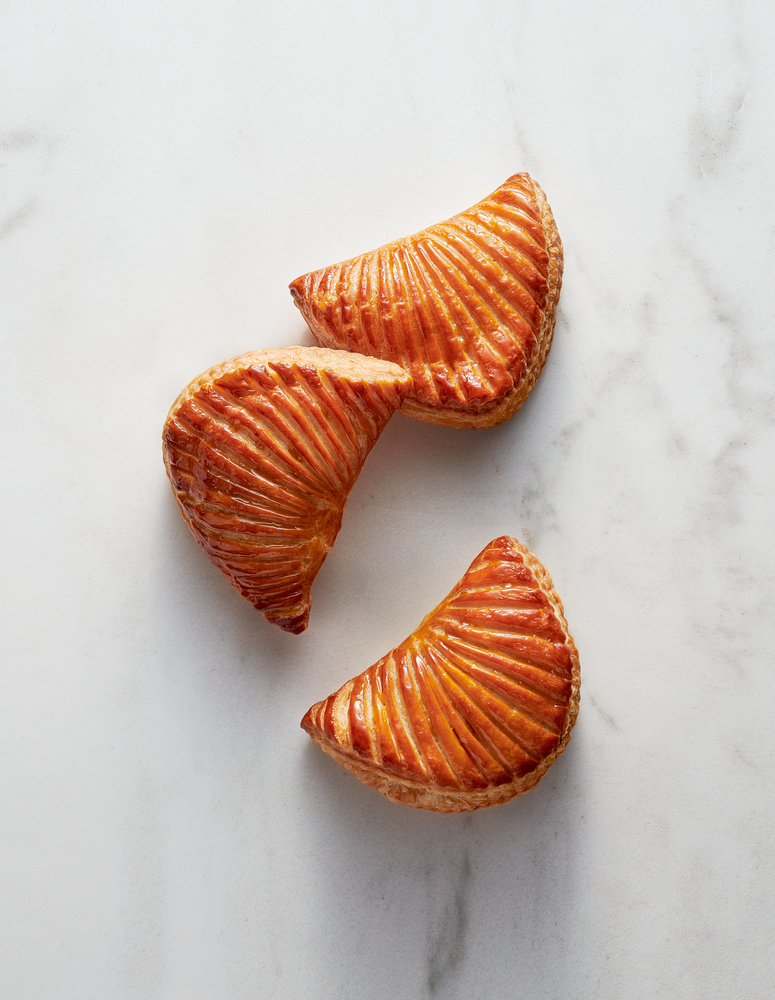 Using the dough hook of the stand mixer, combine the two types of flour, butter and salt and slowly pour in the vinegar and water.
Form into a ball and let rest in the refrigerator.
Roll out the dough and top with the butter sheet.
Close up the dough and give it its turns.
310 g
strong flour (T45, approximately 14% protein)
940 g
plain flour (T55, approximately 11% protein)
25 g
salt
125 g
butter
1000 g
Dairy Butter 82% fat – Sheet
Cut the apples into small cubes.
Cook all the ingredients together, covered.
When they are half cooked, take out 900 g of cubes and cook the rest until reduced to a compote.
Return the cooked apple cubes to the compote and set aside in the refrigerator
3200 g
Pink lady apples
220 g
raw sugar
3
exhausted dried vanilla beans
3
cinnamon stick
3
Egg yolk, cream, milk wash
200 g
egg yolks
50 g
cream
50 g
milk
Perform 5 single turns on the dough, respecting the resting time between each.
Roll out to a thickness of 2.5 mm.
Cut out the turnovers using a fluted cutter.
Using a brush, moisten the edges with a little water.
Pipe out 50 g of apple compote in the centre of each turnover.
Close and seal the edges.
Let rest in the refrigerator.
Turn over and flatten slightly.
Brush twice with the egg yolk/cream/milk wash.
Prick and bake in a 170°C convection oven for approximately 35 minutes.