An original recipe from

Rony Parijs

6 completion stages
Corman products used
for this recipe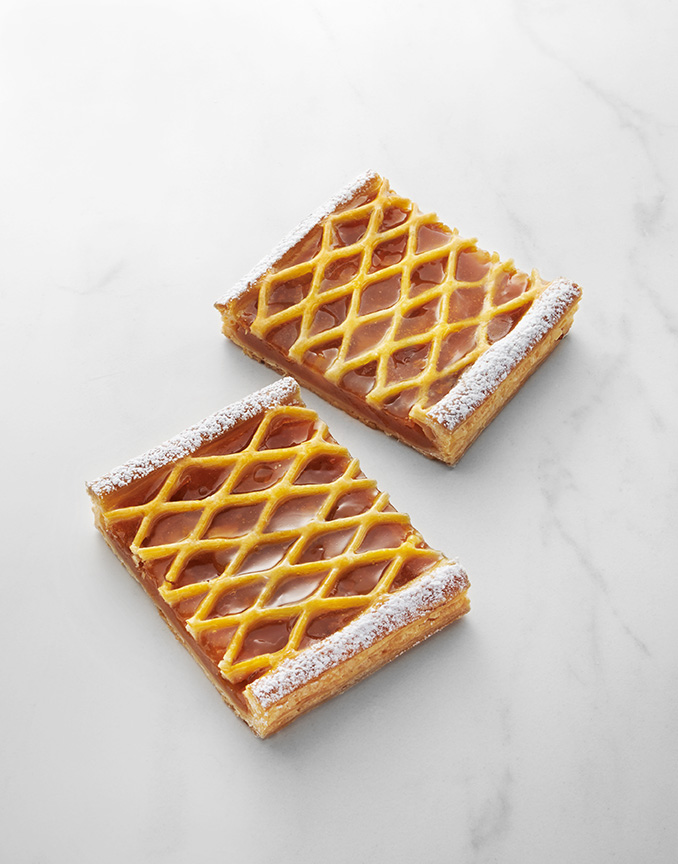 Using the dough hook of the stand mixer, combine the two types of flour, butter (1) and salt while drizzling in the vinegar and water.
Form into a ball and let rest in the refrigerator.
Roll out the dough, inserting and enclosing the sheet of butter in it.
Give it its turns.
2
Apple and apricot compote
Dice the apples. Cook, covered, with the brown sugar, vanilla and cinnamon.
When they are half-cooked, take out 1000 g of apples cubes and cook the rest down to a compote (reduced to 1600 g).
Add the apricot purée to the apple compote.
At 40°C add combined NH pectin and sugar.
Bring to the boil then add the half-cooked apple cubes.
Transfer to a gastronorm and keep in the refrigerator.
3,2 kg
Pink lady apples
220 g
raw sugar
3
exhausted vanilla beans
3
cinnamon sticks
1,6 kg
banana purée
400 g
sugar
28 g
pectin NH
3
Cream, milk&egg yolk wash
200 g
egg yolks
50 g
milk
50 g
cream
50 g
hot neutral glaze
50 g
Puréed apricots
Perform 5 single turns on the dough, respecting the resting time between each. Roll out to a thickness of 2.5 mm. Cut into 8 rectangles 13 x 37 cm and prick.
Cut the rest of the puff pastry dough into 8 strips 11 x 40 cm using a 6 cm-wide lattice cutter. Brush twice with the egg wash and refrigerate.
Spread 500 g of apple apricot compote on each rectangle, leaving a 2 cm border around the edges.
Using a brush, moisten the exposed pastry dough with a little water. Place the latticed rectangles on top, spreading them apart to be able to stick the edges of both together. Let rest in the refrigerator. Transfer to a sheet covered with baking paper. Bake in a 190°C deck oven on a perforated sheet for approximately 45 minutes. Let cool, then glaze with the hot apricot glaze. Cut into squares and sprinkle the edges with icing sugar.