An original recipe from

Giambattista Montanari

Recipe calculated for 10 pieces
2 completion stages
Corman products used
for this recipe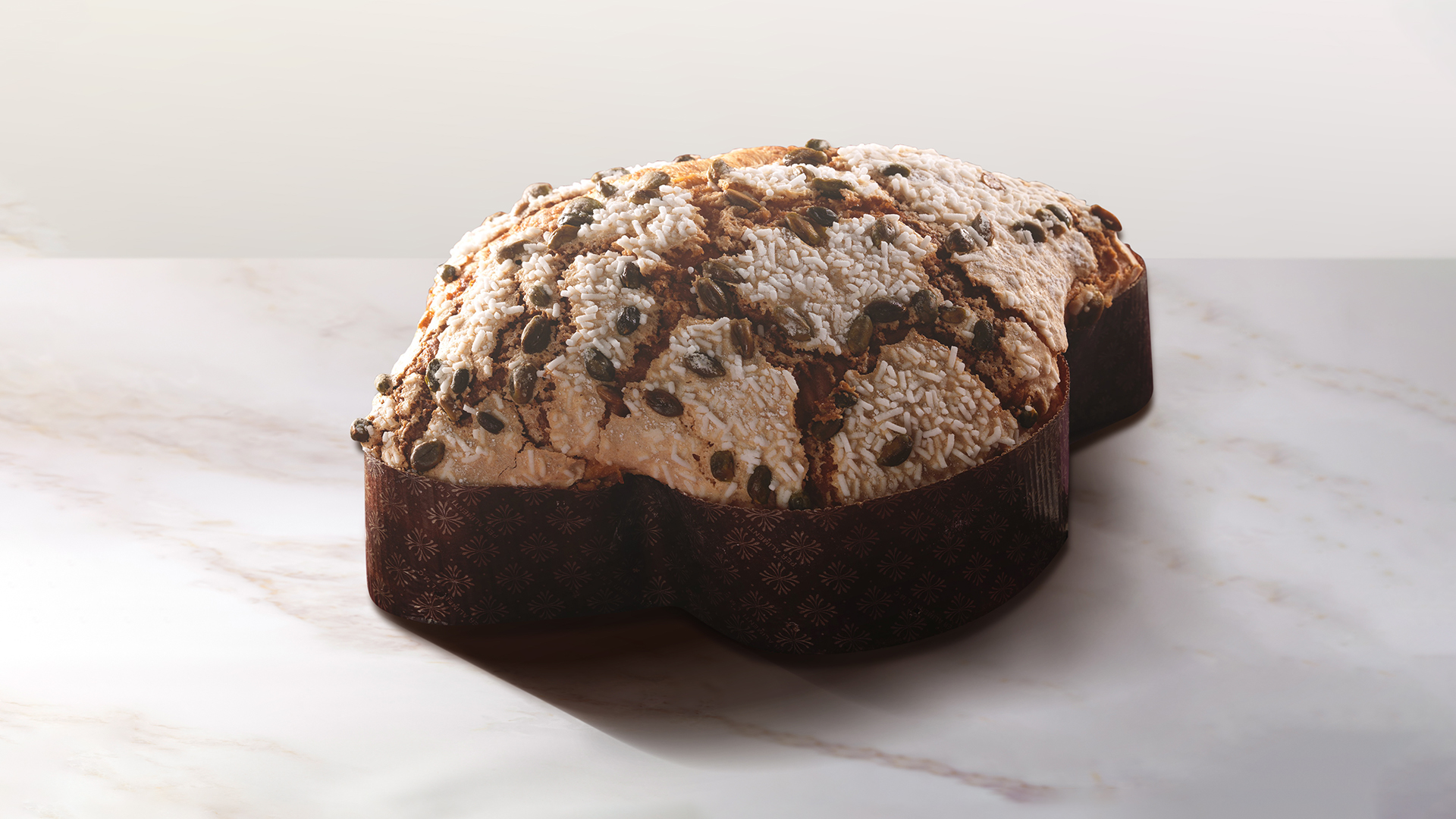 Mix the sugar with the egg yolks and 200 g of butter for about 5 minutes.
Add the starter and mix for a few minutes, then add the flour, malt and cream.
Mix for approx. 15 minutes, then pour in the water and after a few more minutes, the remaining butter.
Kneading time: 20-25 minutes.
Dough temperature: 26°C-27°C.
Leave the dough to rise for 10-12 hours at 25°C until the dough has risen to one and a half times its original volume (800 g of dough in a 200 cm3 cylinder should reach the edge).
Then, brush with butter and chill for 1 hour at 4°C.
Then, move on to the second dough.
2
Second dough - approx. 07:30
Place the first dough in the bowl of a stand mixer and mix with the flour for approx.
17 minutes, until the dough is very elastic and the gluten is completely relaxed.
As soon as the dough is very elastic, pour in the egg yolks and mix for 5 minutes.
Then, add the sugar and invert sugar and continue to knead for another 7 minutes.
At the end, gradually add the honey and butter emulsion (prepared the day before) and the orange zest.
Chill overnight in the refrigerator.
Slowly, drizzle in the cream, then mix in the salt.
Mix the butter with the orange paste, pistachio paste, and vanilla and incorporate into the mixture.
Continue to knead for 7-8 minutes.
At the end, add the chilled and diced marzipan, the pistachios and the orange cubes, stirring for 1-2 minutes.
Place in a suitable container and set aside for 1 hour at 32°C-35°C.
Cut and place on wooden chopping boards or another type of chopping board for 15 to 20 minutes at room temperature.
Then, instead of giving the dough a rounded shape or cutting it in half, make it into a sausage, so that the dough has a unique shape in the baking case which will spread as it rises.
Leave to rise at 28 °C, with an R. H. of 75 %, for 5-6 hours.
Once ready to bake, chill in the refrigerator at 4°C for 15 minutes, then glaze with the pistachio glaze, and decorate with black pistachios and pearl sugar.
Bake at 175°C for 50 minutes, with the vent closed for the first 35 minutes (93°C-94°C in the centre).
178 g
'00' grade wheat flour – Strength 380 - Resistance/Elasticity 0.65
208 g
egg yolk
178 g
sugar
89 g
invert sugar
74 g
orange blossom honey
148 g
Traditional Butter 82% fat – Block
36 g
orange zest
475 g
Selection Cream 35% fat
20 g
fine salt
119 g
Traditional Butter 82% fat – Block
297 g
100% pure pistachio paste
386 g
marzipan (65% almonds)
238 g
aromatic orange paste
6 g
vanilla pod (or vanilla extract)
1603 g
9 mm x 9 mm candied orange cubes
772 g
Bronte pistachios