MACARONS – VARIOUS FILLINGS
An original recipe from

Rony Parijs

Recipe calculated for 75 pieces
7 completion stages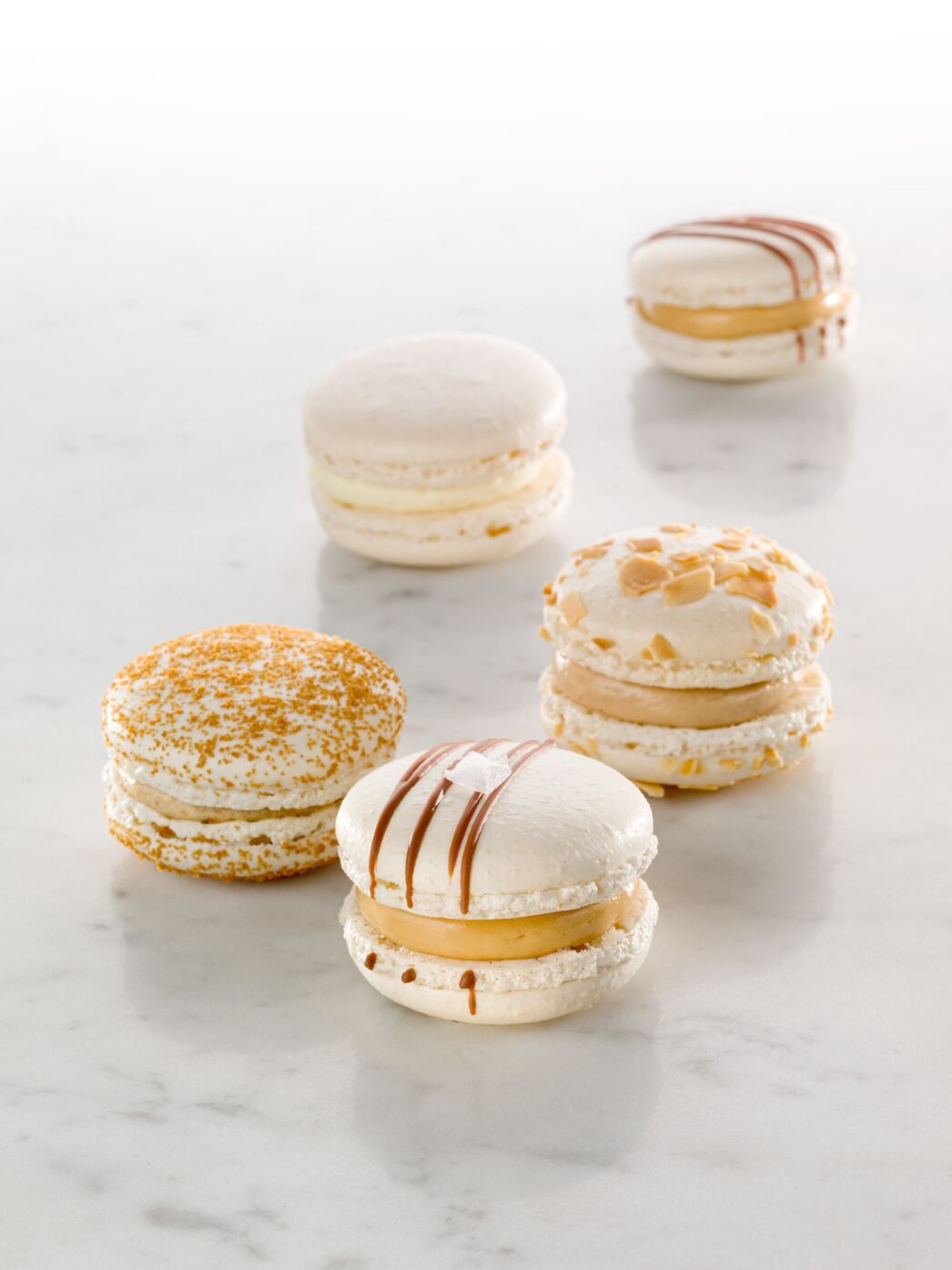 Mix the ground almonds and sugar together. Sift to obtain a very fine powder.
In a saucepan, make a syrup by heating the water and the sugar to 110°C.
In the bowl of a mixer, beat the egg whites (1) with a pinch of salt.
Gradually pour the syrup – at a temperature of 110°C – over the egg whites (1) a little at a time, beat and allow to run for five minutes at medium speed. The temperature of the meringue should drop to 45°C.
Add the cold egg whites (2) to the meringue and mix until they are well incorporated into the warm egg whites. Mix to obtain a smooth meringue.
Add the sifted almond and sugar. Incorporate into the meringue.
Mix until smooth. It should flow without being too runny.
495 g
ground almonds
495 g
sugar
495 g
sugar
165 g
water
165 g
egg whites (1)
165 g
egg whites (2)
1
pinch of salt
Pipe the macarons onto a baking tray lined with baking paper.
Cook in an oven preheated to 140°C for 14 to 16 minutes.
Slide the baking paper with the macarons onto a clean, cold work surface.
Heat the milk, sugar (1) and vanilla and bring to the boil.
In the meantime, mix the sugar (2), egg yolks and cornflour to a smooth paste.
Add it to the hot milk and make a custard cream.
Place the cream in a clean bowl with cling film on the surface. Allow to cool to 28°C.
Soften the butter in the bowl of a mixer. Whip until the butter is light and airy then gradually add the custard cream until a light cream is obtained.
375 g
milk
200 g
sugar (1)
1
vanilla pods
25 g
sugar (2)
125 g
80 g
egg yolks
40 g
Corn Strarch
500 g
Mix the Malibu rum with the coconut and add to the whipped cream.
1
50 g
Malibu®
75 g
grated coconut
5
HAZELNUT PRALINE FILLING
Mix in the hazelnut praline paste until it forms a smooth cream.
Mix in the speculoos powder until it forms a smooth cream
Assemble the macaron shells according to size. Fill with the cream.
Allow to cool overnight in the fridge at 15 °C to enhance the flavour and texture of the macarons.